High-performance edge computing module for use in a variety of consumer and industrial IoT Devices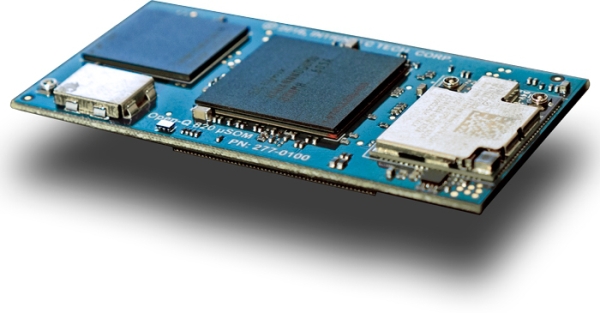 Intrinsyc Technologies Corporation, a leading provider of solutions for the development and production of embedded and Internet of Things (IoT) products, today announced the availability of the Open-Q™ 820Pro µSOM (micro System on Module) and Development Kit.
Intrinsyc's Open-Q™ 820Pro µSOM (micro System on Chip) provides an enhanced power-performance combination from our popular 820 µSOM, with increased processing power, more memory, and long-life availability, in the same ultra-compact 25×50 mm form factor. The production ready, pre-certified 820Pro µSOM is a pin compatible, drop-in replacement for the existing 820 µSOM, requiring only SW changes to provide higher performance, with more efficiency, and long-term availability. With 9% faster CPU and 5% faster GPU speeds at the same power consumption, combined with 33% more RAM, the 820Pro µSOM can provide either more processing power for your demanding applications, or lower average power consumption for the same processing tasks.
"We are excited to introduce this enhanced edge computing module, with premium performance features and long-life support" said Cliff Morton, Vice President, Solutions Engineering, Intrinsyc.  "We've designed the new module to facilitate a smooth upgrade path for existing users of our popular 820 µSOM, and new clients will be able to accelerate time to market with our flexible development kit and pre-certified production-ready module; with the assurance of long-term availability and support."
Read more: INTRINSYC ANNOUNCES IMMEDIATE AVAILABILITY OF THE OPEN-Q™ 820PRO HIGH-PERFORMANCE SYSTEM ON MODULE