Last week-end we just had a good time at the Maker Faire of Shenzhen, hosted in the wonderful OCT District.
We were invited by Eric Pan from Seeedstudio (thanks Eric for the good time!). The Maker Faire has been a priceless experience to get in touch with the chinese maker community, as well as networking with different Chinese and Chinese-based maker companies creating interesting contents & products.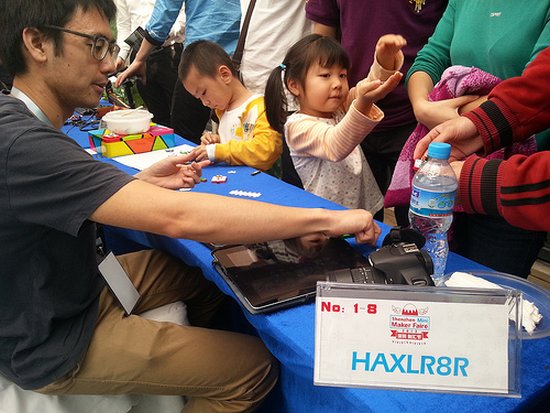 We finally inaugurated our very first official Weibo account, and shared chinese materials about Arduino. You could come and play with the Esplora as well as code your very own interface, Thanks to our friend Federico Musto and Anna Kao for the help. and Maling and Terry who volunteered for us in the booth giving Arduino goodies and pins to a ton of interested chinese makers and curious. Zack Smith, working now in the HAXLR8R, joined us for some help to test his chinese language. There has been many speeches and presentations (as well as an Arduino workshop held by Guo Haoyun, the chinese translator of Getting Started With Arduino), and all of a sudden I understood I have to learn chinese (!).
The guys of Haxlr8r showed us their cool creations: Haxlr8r is a startup incubator taking cool ideas and startups from around the world and helping them developing and fine tuning their own product (solve all the puzzles in developing a project, 3 to 6 month) for production here in China. They are based closed to the world famous SEG Electronics Market, widely portrayed from Bunnie Wang in this post and from Evil Mad Scientist here.
For more detail: Arduino goes to Shenzhen: the Hollywood of hardware products