Here is part 1 of the Arduino and L293D Robot.This is part of a series of instructables leading to a Line follower Robot.
This is a basic Robot made by controlling two motors via the L293D chip through an Arduino Board.
I have done this project in the past with similar set up just not with an Arduino Board.
Do let me know what you think of this project and if I made any mistakes.
Step 1: Parts
Arduino Board
Breadboard
L293D Chip
Two Motors
9 Volt Battery
6 Volt Battery Pack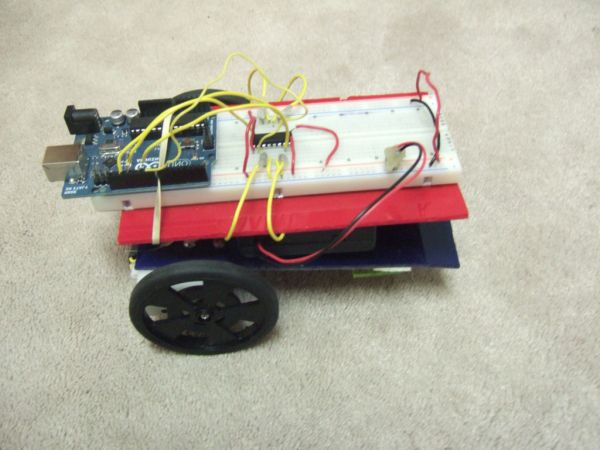 Step 2: Wiring the L293D Chip
Pin 4 ,Pin 5,Pin 12 and Pin 13 from L293D Chip Connect to Ground (Negative On Breadboard)
Pin 1,Pin 9 and Pin 16 from L293D Chip Connect to 5 Volts (Positive On Breadboard)
Pin 8 from L293D Chip Connects to 6 Volts (Positive On Breadboard)
Pin 3 from L293D Chip Connects to Right Motor
Pin 6 from L293D Chip Connects to Right Motor
Pin 11 from L293D Chip Connects to Left Motor
Pin 14 from L293D Chip Connects to Left Motor
Output pins on Arduino to control Right Motor :
Pin 2 from L293D Chip Connects to Output Pin on Arduino
Pin 7 from L293D Chip Connects to Output Pin on Arduino
Output pins on Arduino to control Left Motor :
Pin 10 from L293D Chip Connects to Output Pin on Arduino
Pin 15 from L293D Chip Connects to Output Pin on Arduino
Step 3: Connecting the Motors to L293D Chip
Pin 3 from L293D Chip Connects to Right Motor
Pin 6 from L293D Chip Connects to Right Motor
Pin 11 from L293D Chip Connects to Left Motor
Pin 14 from L293D Chip Connects to Left Motor
Step 4: Connecting the pins to 5 Volts and Ground
Pin 4 ,Pin 5,Pin 12 and Pin 13 from L293D Chip Connect to Ground (Negative On Breadboard)
Pin 1,Pin 9 and Pin 16 from L293D Chip Connect to 5 Volts (Positive On Breadboard)
Pin 8 from L293D Chip Connects to 6 Volts (Positive On Breadboard)
Step 5: Output pins on Arduino to control the Motors
Output pins on Arduino to control Right Motor :
Pin 2 from L293D Chip Connects to Output Pin on Arduino
Pin 7 from L293D Chip Connects to Output Pin on Arduino
Output pins on Arduino to control Left Motor :
Pin 10 from L293D Chip Connects to Output Pin on Arduino
Pin 15 from L293D Chip Connects to Output Pin on Arduino
For more detail: Arduino and L293D Robot ( Part 1 )