Alzheimer's Wearable Assistant
A smartwatch with fall and location detection, reminders and more, designed to help you or your loved one with Alzheimer's!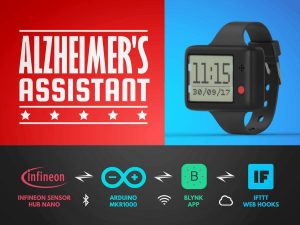 Story
1 in 9 people aged 65 and older has Alzheimer's disease
Family caregivers spend more than $5000 an year caring for someone with Alzheimer's. For some families this means missing a vacation. But for others, it may mean going hungry
These facts quoted straight from the Alzheimer's Association are enough to give anyone an idea of the problems a person has to go through if they, or their loved ones have Alzheimer's disease.
Being a maker, I thought about this and decided that I will build a wearable device, a system which can help both patients and their caretakers.
This system should be able to carry out at least the following tasks:
Reminding the patient of carrying out tasks, he/she has to do daily (such as medications, exercise, etc)
Monitor where the patient is in the house
Alert the caretakers in case of an emergency of any sort
Display the time (it's a watch, after all!)
It should be portable, and easy to use, even for an elder patient
The cost should be kept to a minimum
When I saw Infineon's Sensor Hub Nano, it appeared to be a good candidate in such a project, because of its very small size and BLE capabilities. With the accurate pressure sensing, it could be used to detect if the patient has fallen and also tell where exactly the patient is in the house.
I will be using the following parts for the bare-bones project to function:
Infineon's Sensor Hub Nano
Arduino MKR1000
HC-05 Bluetooth Module
Nokia 5110 Display
You will know what I mean by "bare-bones project" when you read the 'Personalising Alzheimer's Assistant' section.
How it works
In this section, I will briefly describe how the watch works and outline the steps we have to go through to make it work.
Infineon's Sensor Hub Nano evaluation board has a DPS310 barometric pressure sensor, which sends its data through the evaluation board via bluetooth. The pressure, altitude and temperature values can be viewed in the Android app by Infineon (download here) as well as SES2G evaluation software. Users can also build applications for Android with the library Infineon provides, based on their own requirement.
Read more: Alzheimer's Wearable Assistant
Project Ratings:
Related posts