Step 1 Scavenging Parts What I'd like to do for this crazy/ambitions project is turn an old cell phone into a smartwatch. So obviously an old cell phone is required. The primary reason for this project is simply that I had an old cell phone laying around and wanted to find a creative way to repurpose it. The one I had is a Nokia 1100, but most other old cell phones would work, so long as you can find the sc ...
Read more

›
Description Recently I bought two ESP12e, wanted to see how those IoT things work. One thing I know for sure, they don't tolerate 12V 1A ;) yep fired one by accident ... I left with one working, trying to figure out what should I build with it. In the meantime was wondering should I by a smartwatch, do I really need one? What would I use it for etc... then start googling about it, check some stores at net, ...
Read more

›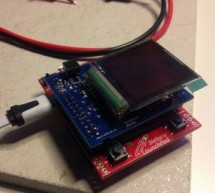 I have an issue with smart-watches. Watches in general fall into one of two categories: a tool to tell the time, or a fashion statement. Increasingly, I believe the latter category is larger than the first. With the advent of the iWatch, Pebble and the like, fashion and making a statement has moved into technology. It's not quite a new thing but nevertheless, it's something I'm not too fond of. My solution? ...
Read more

›