A switch is a fundamental part of most electrical and mechanical devices; mechanical switches can be used to select gears in a car's transmission or used to unlock a door; electrical switches can turn the lights in a room on and off;  semiconductor uses to route logic signals within a circuit or control bigger devices. But what about heat flows? Can we possibly control the route of heat in a device? A Thermal Switch? Well, a thermal switch is an electromechanical device which opens and closes contacts to control the flow of electrical current in response to temperature change. A Thermal switch controls the flow of current concerning the temperature change, but this doesn't actually control the flow of heat.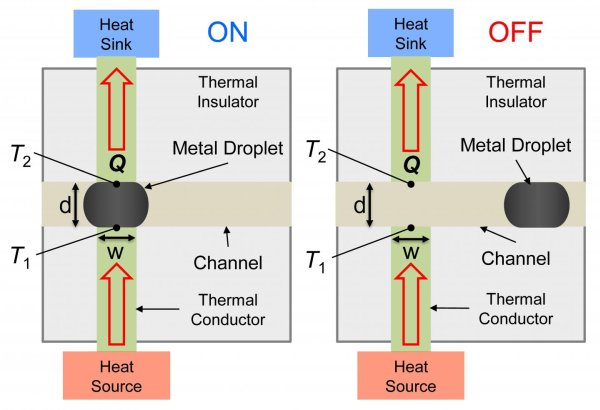 Heat flow is very important to engineers, and the heat movement in a device can profoundly affect the system performance and reliability especially in an electronics system. Engineers have long desired a switch to control heat flows, but many challenges exist in the creation of such a switch. Researchers from the College of Engineering at the University of Illinois at Urbana-Champaign have developed a new technology that allows users to turn heat flows "on" or "off." This is a great development and it's going to impact on future electronics systems.
Heat flows occurs whenever you have a region on higher temperature near a region of lower temperature. In order to control the heat flow, the team engineered a specific heat flow path between the hot region and cold region and then created a way to break the heat flow path when desired" claims William King, the project co-leader and a professor at the department of mechanical science and engineering.
Read more: A Heat Switch for Controlling Heat Flow Path in Electronic Systems