Description
The WM8232 is a 16-bit analogue front end/digitiser IC which processes and digitises the analogue output signals from CCD sensors or Contact Image Sensors (CIS) at pixel sample rates of up to 35MSPS.
The device has three analogue signal processing channels each of which contains Reset Level Clamping, Correlated Double Sampling (also Sample and Hold), Programmable Gain, Automatic Gain Control (AGC) and Offset adjust functions.
The output from each of these channels is time multiplexed, in pairs, into three high-speed 16-bit Analogue to Digital Converters. The digital data is available in a variety of output formats via the flexible data port.
The WM8232 has a user selectable LVDS or CMOS output architecture.
An internal 8-bit DAC is supplied for internal reference level generation. This may be used during CDS to reference CIS signals or during Clamping to clamp CCD signals. An external reference level may also be supplied. ADC references are generated internally, ensuring optimum performance from the device.
A programmable automatic Black Level Calibration function is available to adjust the DC offset of the output data.
The WM8232 features a sensor timing clock generator for both CCD and CIS sensors. The clock generator can accept a slow or fast reference clock input and also has a flexible timing adjustment function for output timing clocks to allow use of many different sensors.
Features
70MSPS conversion rate
16-bit ADC resolution
Current consumption – 230mA
3.3V  single supply operation
Sample and hold  /correlated double sampling
Programmable offset adjust (8-bit resolution)
Flexible clamp timing
Pixel clamp / line clamp mode
Programmable clamp voltage
Programmable CIS/CCD timing generator
Internally generated voltage references
Compliant for Spread Spectrum Clock
LVDS/CMOS output options
–  LVDS 5pair 490MHz 35-bit data
–  CMOS 90MHz output maximum
Complete on chip clock generator. MCLK 5MHz to 35MHz
Internal timing adjustment
Automatic Gain Control
Automatic Black Level Calibration
56-lead QFN package 8mm x 8mm
Serial control interface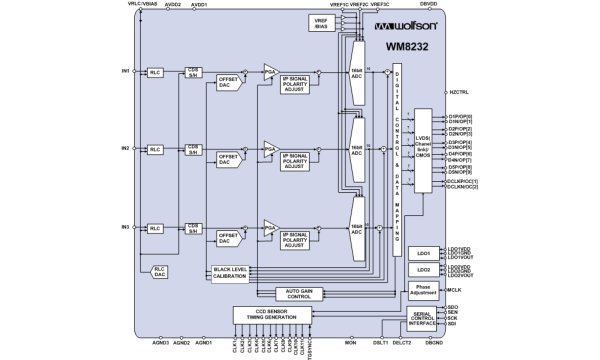 Wolfson has announced a range of analogue front end digitiser chips for digital copiers and scanners.
Part of the firm's imaging portfolio, the WM8232, WM8233, WM8234 and WM8235 process and digitise the analogue output signals from CCD sensors or contact image sensors.
"They offer a variety of channel and ADC configurations, allowing system designers to choose the configuration which best suits their purpose," said Wolfson.
Applications also include portable bar code scanners and multi-function printers.
The parts will be sampling from August, in a 56-lead QFN package.
For more read: Wolfson gets into copiers and scanners