Whoa?
Turn any EL (Electro-Luminescient) material into a touch sensor with no additional hardware. It's an open prototyping platform for wearable electronics! Open source and Arduino IDE compatible.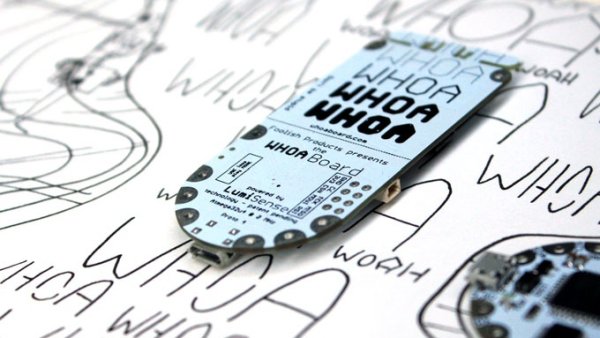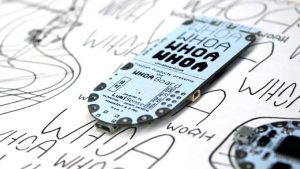 There are many different EL materials, including EL paint, EL panels, EL tape, EL wire.  They have been integrated into a variety of applications, from motorcycle jackets, to masks, to cars.
The Whoa Board makes this jacket respond to movement
Press!
LumiLor – "The Whoa Board is an amazing piece of innovative technology. Think of it like a light switch for electroluminescent materials without the pesky switch itself."
Futurism • Hack a Day • Make: • Somerville Scout • Techno Buffalo • Electronics Lab • Launch Ticker • Electric Runway • Fashionably Geek • Inngineers • Geeky Gadgets • Fabcross.jp
A more behind the scenes look.
Wait, be a bit more specific.
All that you need to get started is the Whoa Board, a micro-usb cable, and a piece of EL.
No programming required!
However it is also a fully featured (open source and arduino compatible) prototyping platform optimized for wearable electronics.  Follow the development effort with our github repo!
It has a number of programmable hardware pins that can be used for everything from communicating with wireless modules, to listening to a microphone. In particular speaks the following serial protocols: UART, SPI, and I2C.
It can also output keyboard instructions or MIDI over it's micro-usb port. This means that the Whoa board is flexible, and can be used to pass data to everything from a banana to a computer, illuminating EL elements in the process.
It turns EL elements into capacitive sensing elements, a similar technique to cell phone screens. This means that it can measure presence at a distance.
Read more: Whoa Board: Dream With Touch Sensing EL Wire, Panels, Paint