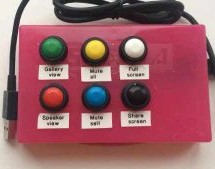 For many people, the biggest change of 2020 has been adjusting to a glut of online teleconferences as a part of daily working life. [p_leriche] has had to adjust the way church services are conducted, and found managing a complicated streaming meeting setup to be complicated at best. To ease the workload on the presenter, he created a simple Zoom control box. At its heart, the box is little more than a fanc ...
Read more

›
This example shows how to use the tone() command to generate different pitches depending on which sensor is pressed. Circuit Connect one terminal of your speaker to digital pin 8 through a 100 ohm resistor, and its other terminal to ground. Power your three FSRs (or any other analog sensor) with 5V in parallel. Connect each sensor to analog pins 0-2, using a 10K resistor as a reference to groud on ea ...
Read more

›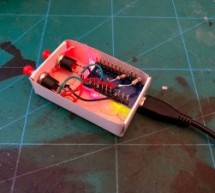 Passwords are hard... and remembering a secure one is even harder! On top of that if you have along, convoluted password it will take time to type. But fear not my friends, I have a solution to this! I Created a little auto-typing machine that will output the passwords into the computer. Now there is no need to remember stuff or being a fast typer. Step 1: What You Need. Parts: 2x 10k resistors (never mind ...
Read more

›
It happens to pretty much everyone who gets into keyboards. No commercial keyboard can meet all your needs, so you start building them. Use them a while, find problems, build a new keyboard to address them. Pretty soon you think you have enough user experience to design the perfect keeb — the be-all, end-all magnum opus clacker you can take to the grave. This time, it happened to [aydenvis]. We must say, th ...
Read more

›
In one of my previous Instructable, I showed you how to control a model railway layout using a keyboard. It did great but had a drawback of requiring a computer to operate. In this Instructable, let's see how to control a model train using a keyboard through Arduino. So, without further ado, let's get started. Step 1: Watch the Video https://youtu.be/94yJJhv92OE Step 2: Get All the Required Stuff ...
Read more

›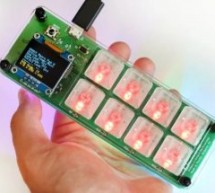 The ANAVI Macro Pad 8 is an open source, mini 8-key programmable keypad. Each key can be reprogrammed to activate a macro or even a dedicated shortcut, all without any coding experience says its creators. Thn aks to the keypad being powered by the advanced, but easy-to-use Quantum Mechanical Keyboard (QMK) open source firmware. "ANAVI Macro Pad 8 can be customized to fit multiple use cases across various in ...
Read more

›
This instructable describes how to turn a Commodore 64 computer into a bluetooth keyboard. It involves programming a micro controller with the Arduino IDE and constructing a circuit board. Supplies you'll need (some are optional): Commodore 64 with keyboard (remove mother board, it is not used)(2) 74HC595 shift registers(8) 1N4148 diodes(3) 220 ohm resistors(1) RGB Led (common cathode)(1) Adafruit Feather M ...
Read more

›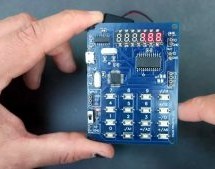 All by itself, a calculator based on an Arduino isn't necessarily very novel. However, [Volos] has a nice board that, of course, looks like a calculator. There are 16 keys and an LED display. But it seems to us the real value would be using this as a base for other projects. As an inexpensive development board, it's handy to have a simple processor with a keyboard and a display. There's some extra I/O pins ...
Read more

›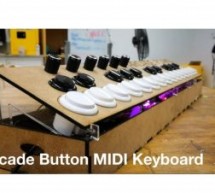 This is a version 2.0 of one of my first forays into Arduino and DIY MIDI programming. I've developed my skills in prototyping and design so I thought it would be a good demonstration of process and progression. With a more informed design process I recycled the buttons from my first attempt and set off to build 2.0! Step 1: Materials My 1st version used an Arduino Mega because of the many intputs it has bu ...
Read more

›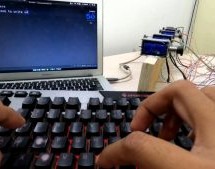 No matter how clicky your keyboard is, nothing compares to the sensory experience of using a typewriter. The sounds that a typewriter makes, from the deep clunk of hitting the spacebar to the staccato of keys striking paper to the ratchety kerchunk of returning the carriage, are a delight compared to the sterile, soulless clicks of even the noisiest computer keyboard. Oh, and the bell — who doesn't love the ...
Read more

›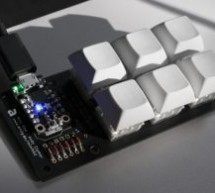 Just when we think we've peeped all the cool baby keebs out there, another think comes along. This bad boy built by [andyclymer] can be configured three different ways, depending on what kind of control you're after. As designed, the PCB can be used as a six-switch macro keyboard, or a rotary encoder with two switches, or a pair of rotary encoders. It's meant to be controlled with Trinket M0, which means it ...
Read more

›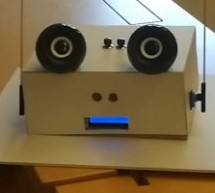 Want to take that annoyingly productive coworker down a notch? Yeah, us too. How dare they get so much done and be so happy about it? How is it possible that they can bang on that keyboard all day when you struggle to string together an email? The Slippy Slapper is a useless machine that turns people into useless machines using tactics like endless distraction and mild physical violence. It presses you ...
Read more

›