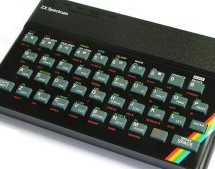 The SInclair ZX 8-bit computers of the early 1980s were masterpieces of economy, getting the most out of minimal hardware. The cassette tape interface was a one-bit port, the video was (on the first two models anyway) created by the processor itself rather than a CRT controller, and the keyboard? No fancy keyboard controllers here, just a key matrix and some diodes between a set of address lines and some da ...
Read more

›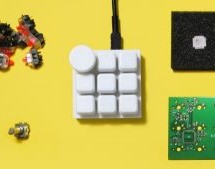 Remember back in the early-to-mid 2000s when pretty much every cheap USB keyboard you could find started including an abundance of media keys in its layout? Nowadays, especially if you have a customized or reduced-sized mechanical keyboard, those are nowhere to be seen. Whenever our modern selves need those extra keys, we have to turn to external peripherals, and [Gary's] Knobo is one that looks like it cou ...
Read more

›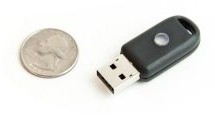 Signet is a compact, open hardware, and free and open source software USB device that safely stores your passwords, bookmarks, contacts, and other personal data in encrypted memory. It's compatible with MacOS, Linux, Windows, and Android so you can use it on any device with a USB port. The device is smaller than the average house key, making it easy to take with you wherever you go. This makes Signet a prac ...
Read more

›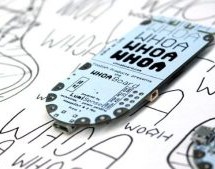 Whoa? Turn any EL (Electro-Luminescient) material into a touch sensor with no additional hardware. It's an open prototyping platform for wearable electronics! Open source and Arduino IDE compatible. There are many different EL materials, including EL paint, EL panels, EL tape, EL wire.  They have been integrated into a variety of applications, from motorcycle jackets, to masks, to cars. The Whoa Board makes ...
Read more

›
Most hobbyists and many professionals use Eagle CAD as a daily tool in designing schematics and laying out PCB. I'm going to share with you the most important tips and tricks for using Eagle CAD, which make my work much easier and faster. Tip #1: Keep One Hand on the Keyboard, One on the Mouse I see a lot of friends and colleagues use the mouse as their main tool for routing and selecting tools in the sideb ...
Read more

›
Ladyada and pt had an old NeXT keyboard with a strong desire to get it running on a modern computer. These keyboards are durable, super clicky, and very satisfying to use! However, they are very old designs, specifically made for NeXT hardware, pre-ADB and pre-USB! That means you can't just plug the keyboard into an ADB or PS/2 port or PS/2 to USB converter (even though it looks similar). In fact, I have no ...
Read more

›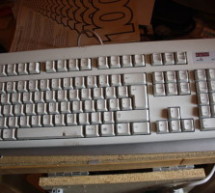 The Arduino is perhaps the coolest thing on earth. There are many types, the Uno, the Mega, the Pro, the Pro Mini, etc. etc. But one thing that often can be a problem is that you only have a limited number of inputs and outputs. There are many solutions for that, ranging from multiplexers to port expanders. But one thing that gives you up to 171 extra inputs is to use an old keyboard. And that is that this ...
Read more

›
This instructable will show you how to control your computer's keyboard and mouse with an Android app via bluetooth to an Arduino BACKGROUND Ever wanted to control your computer's mouse/keyboard functionality without having to actually sit in front of it? I do all the time. For instance, I often hook my laptop up to the TV in my living room to watch a show on Netflix. Well, roughly 20 minutes later, when th ...
Read more

›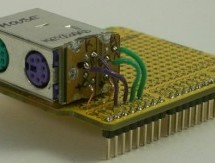 This example illustrates the use of the Mouse and keyboard libraries together. Five momentary switches act as directional buttons for your cursor. When a button is pressed, the cursor on your screen will move, and a keypress will be sent to the computer. Once you have the Leonardo programmed and wired up, open up your favorite text editor to see the results. NB: When you use these libraries, the Arduino tak ...
Read more

›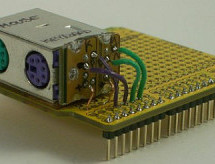 Arduino isn't limited to taking input from sensors: you can even connect up a full-size PS/2 keyboard just as if it were a "real" computer and type away! Connecting a keyboard to an Arduino may sound a bit odd (after all, it's just a little microcontroller) but keep in mind that an Arduino actually has more processing power and memory than a complete desktop machine of not so many years ago. Adding some per ...
Read more

›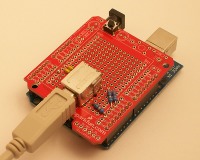 Communicating with a host computer can allow a simple Arduino-based system to gain access to a wide variety of devices and information. Most people link an Arduino to a host using serial communications across a USB connection with custom code running on the host to send information to the Arduino or receive it in return, but giving your Arduino the ability to pretend to be a keyboard or mouse opens up a who ...
Read more

›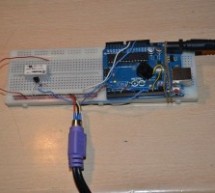 Hi, all! Today I' m trying to explain you my last project: "The morse code generator by a PS\2 keyboard" I' ve used an PS/2 keyboard to send input to my Arduino board (like described in here) and transform it in morse code that activate a speaker and a relay. Components: - PS\2 keyboard - Arduino Uno(or others) - Wires - 5V relay - BC547 transistor - Small speaker - Recirculation Diode Step 1: Setting hardw ...
Read more

›