UP Bridge the Gap – a brand of AAEON Europe – is proud to bring its latest innovation at Kicksarter. Introducing UP AI Edge: an x86 computing platform works across Intel CPU, GPU,VPU and FPGA to  enable Artificial Intelligence on the Edge.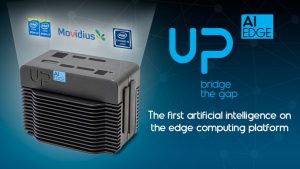 Most IT solutions available today are focused on connecting Edge devices to the cloud and these deployments face challenges related to latency, network bandwidth, reliability and security. Experts in this field agree that not all the tasks and decision-making processes can be addressed in cloud-only models.
UP AI Edge is the solution for cloud limitations by bringing AI performance and hardware acceleration not 'at' but 'ON' the Edge of the Internet of Things and of the latest technology.
UP AI Edge is the only AI on the Edge platform fully powered by Intel technology and it consists of :
UP Core Plus: the credit-sized ( 56 x 90 mm ) board powered by Intel formerly known as Apollo Lake-I family, a 64 bit QuadCore Atom architecture with extremely high performance in only 9.5 W of TDP ( x5 – 3940). The board supports up to 8GB Dual Channel DDR4 2.400 MHz, DP up to 4K, eDP, 2 USB 2.0, 1 USB 3.0, 1 USB 3.0 OTG, WiFi 802.11 AC 2T2R, 2 x CSI and it has 2 x 100 pin high speed connector which bring to the carrier board I2C, I2S, ISH, UART, PCI-Express, USB 3.0 etc.
AI Plus: the credit-sized ( 56 x 90 mm ) companion board for UP Core Plus, powered by Intel® Cyclone® 10GX ( 105KLe-220KLe ) with 1 GB DDRIII, Display Port-IN connected to Cyclone 10gx for Video Acquisition, USB Type-C connector & GPIO connected to Intel Cyclone 10gx for data acquisition, LVDS-IN connected to Intel® Cyclone® 10GX for Camera acquisition natively compatible to Basler LVDS cameras, 1 GBit Ethernet, 1 USB 3.0 and mini-PCIe connected to UP Core Plus via the 100 pin high speed connector.
Read more: UP AI Edge – an edge platform works across Intel CPU, GPU, VPU and FPGA