Online circuit simulators are getting more popular day by day. Electronics hobbyists, as well as professionals, use circuit simulators often to design and check circuit diagrams. The best thing about online simulator is, you don't have to install anything at all on your PC or laptop. All you need is a browser and a stable internet connection. Work from anywhere just by opening the online circuit simulator website and signing in to your account. Cool, huh?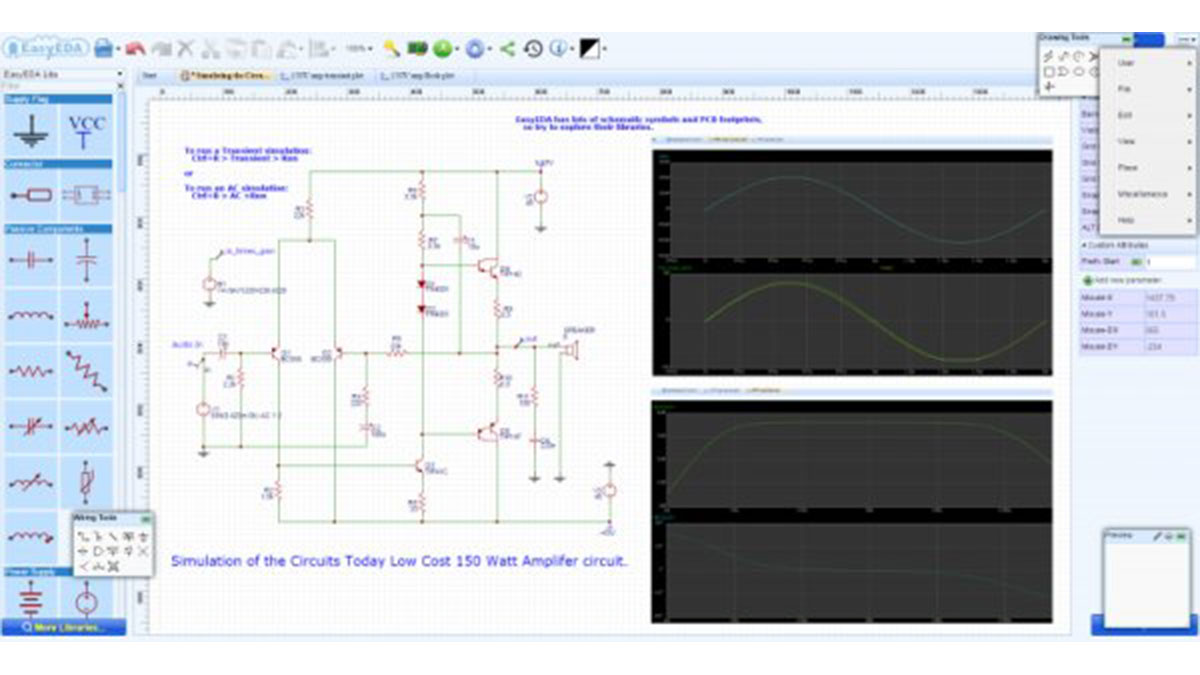 Now the question is, which simulator should one use? Which one is the best simulator? Well, in one sentence, "there is NO best simulator". It depends on your requirement and level of expertise. If you are just a beginner, then you need a basic and less complex simulator. But if you're professional and very expert in this field, obviously you'll need a complicated, multipurpose simulator.
Here I've listed top ten online simulators based on their popularity, functionality, pricing, and availability of library parts.
EasyEDA is a free, zero-install, web and cloud-based EDA tool suite which integrates powerful schematic capture, mixed-mode circuit simulator and PCB layout in a cross-platform browser environment, for electronic engineers, educators, students, and hobbyists.
As EasyEDA is completely free, super easy to use, and feature-rich, it holds the first place.
Pros: 
 Huge and ever growing community
Parts library is quite massive
Very powerful simulator
High-quality PCB designing is possible
Designing circuit/PCB is free from any kind of hassle. Beginners can easily get started to EayEDA
EasyEDA is completely FREE
Cons:
Getting the simulation done is kinda difficult. You need to follow the guide.
2. Autodesk Circuits – Circuits.Io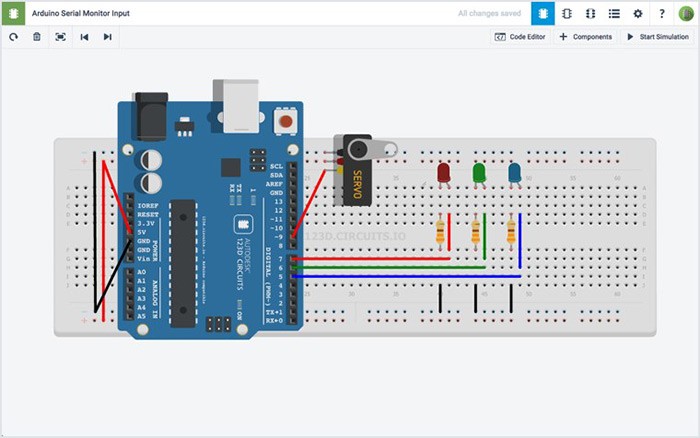 (circuits.io) Autodesk circuits online simulator
Autodesk Circuits empowers you to bring your electronics project ideas to life with free, easy to use online tools.
A circuit/PCB designing tool and simulator developed by AutoDesk, empowering you to design the circuit, see it on the breadboard , use the famous platform Arduino, simulate the circuit and eventually create the PCB. You can program the Arduino directly from this software simulation.
Pros:
The output design is easier to interpret and will be a handy reference while making a real life connection
It can simulate Arduino
The library has plenty of parts
Cons:
Designing circuit is bit tougher than other simulators
Can't draw a circuit quickly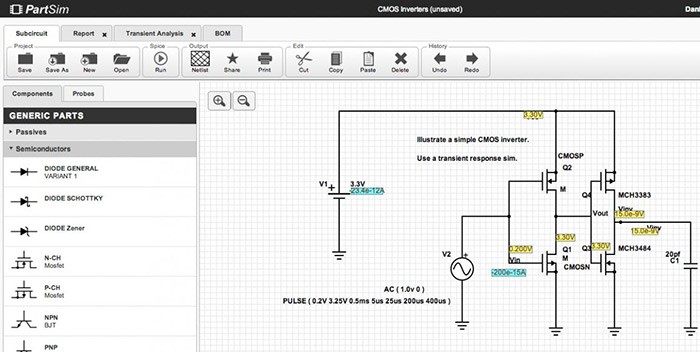 PartSim is a free and easy to use circuit simulator that runs in your web browser. PartSim includes a full SPICEsimulation engine, web-based schematic capture tool, and a graphical waveform viewer.
Pros:
This platform is pretty neat and easy to use
Large number of parts from vendors makes this a good choice for practical purpose
PartSim is entirely free to use
Cons:
Not so powerful simulator but ok for beginners
It has a lot of op-amps in library but other ICs lack
EveryCircuit is an online circuit simulator with a well-designed graphics. It's really easy to use and has a great system of electronic design. It allows you to embed simulation into your web page.
Pros:
EveryCircuit is also available mobile platforms (Android and iOS)
Impressive animated representation of various dynamic parameters
It offers plenty of example and pre-designed circuits. Good for beginners
Cons:
This platform is not a free one
It lacks many useful ICs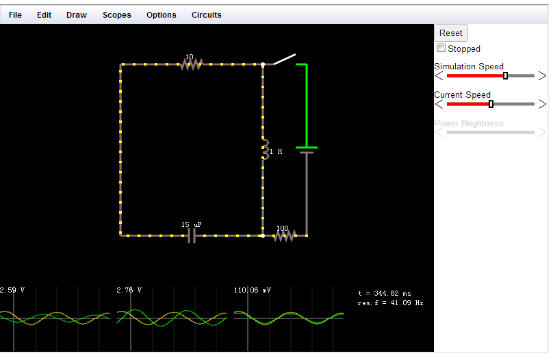 Extremely simple web platform that runs on any browser. The platform perfectly suits beginners who want to understand the functionality of simple circuits and electronics.
Pros:
The simplest one. Beginners won't have to struggle with it
Completely free and no account is required
This is an Open-Source platform
Cons:
The library parts are very limited
GUI is not attractive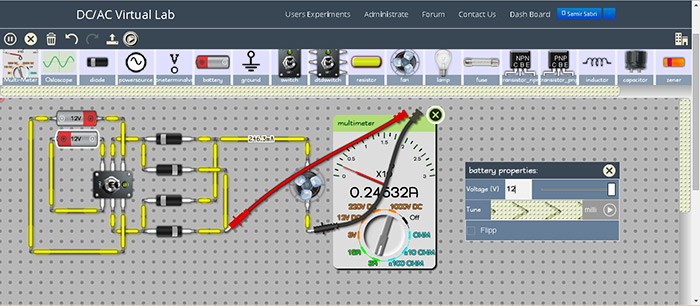 DC/AC Virtual Lab is an online simulator who is capable of building DC/AC circuits, you can build circuits with batteries, resistors, wires and other components.
DC/AC Virtual Lab has a pretty attractive graphics and components are real looking, but it is not in top fives because of limitation in parts library, incapability of drawing circuits and some other reasons.
Pros:
Simple UI, good for students and instructors
Parts look like real one, not just symbols
Cons:
DC/AC Virtual Lab is NOT completely free
Parts library is very much limited
Simulation is not that powerful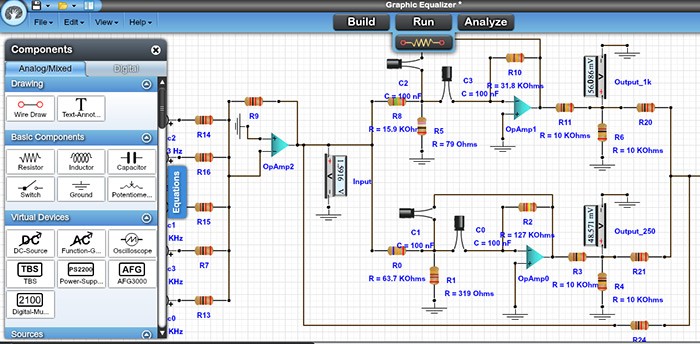 DoCrcuits is easy to use but not much efficient. You can design both analog and digital circuits. But you have to log in to get the simulation done.
Pros:
Interactive design, though a bit sluggish
Components are real looking
Many readymade circuits are there
Cons:
You can't use both analog and digital components on the same circuit
Simulation is pretty much limited
DoCircuits is NOT free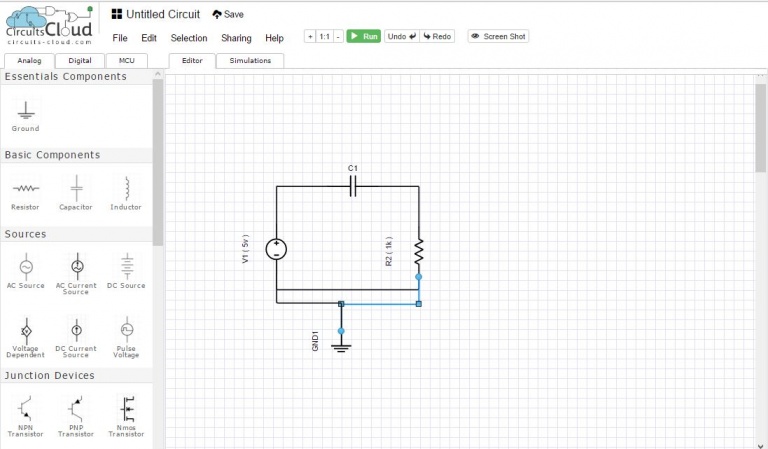 CircuitsCloud is a free and easy-to-use simulator. It works good for both analog and digital. Beginners can easily use it but have to create an account first.
Pros:
CircuitsCloud is a free platform
Making circuit is easy here
Cons:
Simulation is not good. Doesn't animate direction of current
Library doesn't contain enough digital IC and MCUs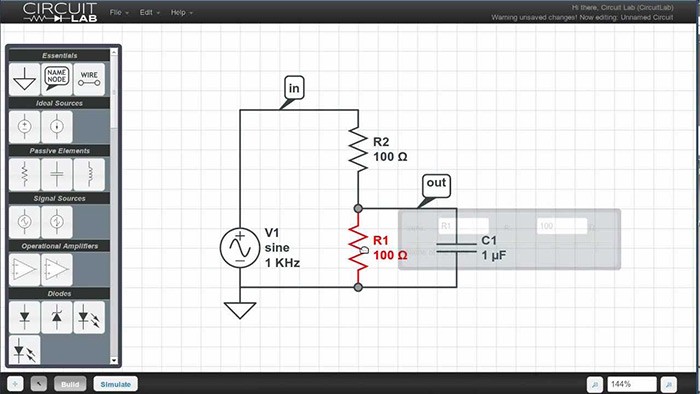 Circuit Lab is a feature-rich online circuit simulator, but it's not free. It's designed with easy to use editor and accurate analog/digital circuit simulator.
Pros:
This platform is well-built with fairly extensive library that is suitable for both beginners and experimenters
Simulated graphs and output results can be exported as CSV file for further analysis
Designing circuits is easy and pre-designed circuits are available
Cons:
This is not a free platform but you can use the demo for free
The simulation could have been better with interactive simulations apart from the graphical representation
More digital ICs should be added in library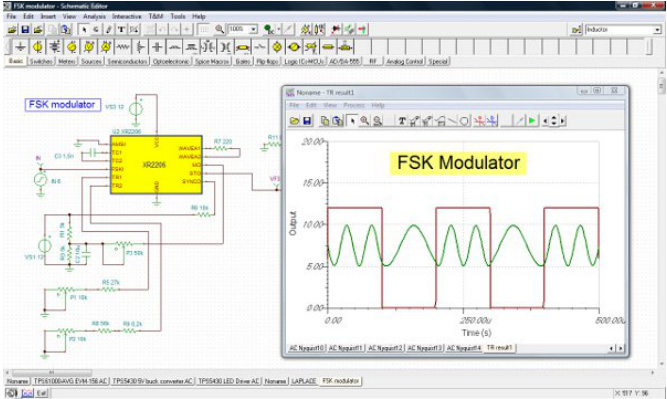 TINA Design Suite is a powerful yet affordable circuit simulator and PCB design software package for analyzing, designing, and real time testing of analog, digital, HDL, MCU, and mixed electronic circuits.
TINA is a very sophisticated circuit simulator and a good choice for experienced persons. It's not very easy for beginners and takes a while to get started. TINA is not free. But if you consider the performance, the price is negligible.
Pros:
This simulation program has sophisticated capabilities
Simulations are performed on company's server, hence it provides an excellent accuracy and speed
Various types of circuits can be simulated
Cons:
This platform is NOT for beginners
Even if you are experienced one, initially you may face some difficulties
Tina Cloud is NOT a free simulator
Other Simulators
So, now you have a list of "Top Ten Online Circuit Simulators", but this isn't a final one. There are other online simulators which you may find as good for you. simulator.io, Gecko-SIMULATIONS etc. are some of them. I recommend you to try some of them before choosing one as perfect.
If you know another simulator worth included in the list, do share with us. Any suggestion is highly appreciated.
Source : Top Ten Online Circuit Simulators