It's one thing to have an idea (especially a hardware-based idea) and it's another thing to bring it to life. Rapid Prototyping using tools like 3D Printer has opened a lot of opportunities for the everyday makers, hardware enthusiasts, and hackers. For the person looking to build that next cool thing, maybe a PoV (Persistence of Vision) display, and some flying racing car, one thing is sure you are going to get your hands dirty by making some sort of electronics board to control it all.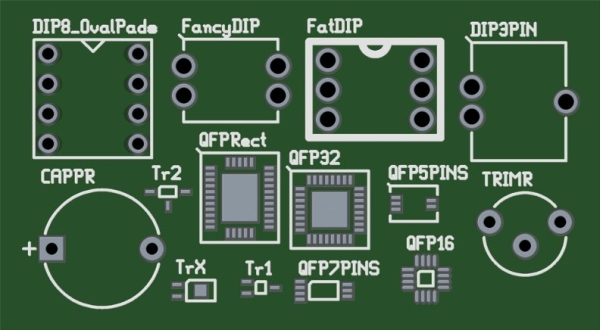 At the heart of every electronic board is the PCB design; it puts everything together so it could be produced. It's one thing to know how to develop an electronic circuit, but it's another thing to get PCB the way you want. EDA software like Altium, OrCAD, KiCad, Eagle, and others provides the opportunity to convert your schematic to a PCB design to finalize your project, but you will most likely won't get all the PCB footprints needed for each component of your circuit. One solution is to start creating your own footprint or library for that component which will require digesting the datasheet properly; this process could be time-consuming and frustrating sometimes when you are using the wrong platform or working with a large number of pins.
Fortunately, there are other ways around this. There exist many online resources contributed by experienced engineers and hackers that have created layouts, footprints, libraries that could be used by anyone for free or at a price. These platforms have reduced the workload of the PCB design engineers and makers. Some well known platforms to source for PCB footprints are listed below:
As they say, you can't call yourself a professional PCB or Hardware engineer without having to have use SnapEDAbefore. At SnapEDA, you can search for the schematic symbols and PCB footprints of millions of major components. SnapEDA vision is the eradicate the need of creating your own library or footprint ever again, with access to millions of components, hardly will you not find what you are seeking for. Furthermore, SnapEDA also offers to deliver a part not generally available for you within 24 hours! They support footprints and models for the most common CAD software like Altium, Eagle, KiCAD, OrCAD, PADs, PCB123, and Pulsonix.
Just like SnapEDA, Ultra Librarian it's also a rich platform to find most component footprint you are looking for. They offer both 2D, 3D, layout, the footprint of most components and even supports a lot of CAD software. They are available to download for free. One significant advantage of using Ultra Librarian over SnapEDA is that Ultra Librarian provides purchasing options for the user. Ultra shows several stores where you can purchase the components you are looking for. Ultra basically offers you the full package.
For the KiCad hardcore fans, this is for you. KiCad is known for its opensource software also provides official libraries that are readily available for download on their website. They include schematic symbols, PCB footprints, and comes complete with 3D modeling data to complement their 3DViewer tool, which enables you to inspect your design more in detail with an interactive 3D view. The libraries are available on GitHub for download and even collaboration.
Read more: TOP 10 WEBSITES TO FIND FOOTPRINTS FOR YOUR NEXT PCB PROJECT