Description
The ADS1299 is a low-noise, multichannel, simultaneous-sampling, 24-bit, delta-sigma (ΔΣ) analog-to-digital converter (ADC) with a built-in programmable gain amplifier (PGA), internal reference, and an onboard oscillator. The ADS1299 incorporates all commonly-required features for electroencephalogram (EEG) applications.
With its high levels of integration and exceptional performance, the ADS1299 enables the creation of scalable medical instrumentation systems at significantly reduced size, power, and overall cost.
The ADS1299 has a flexible input multiplexer per channel that can be independently connected to the internally-generated signals for test, temperature, and lead-off detection. Additionally, any configuration of input channels can be selected for derivation of the patient bias output signal. The ADS1299 operates at data rates from 250 SPS to 16 kSPS. Lead-off detection can be implemented internal to the device, either with an external pull-up or pull-down resistor or an excitation current sink or source.
Multiple ADS1299 devices can be cascaded in high channel count systems in a daisy-chain configuration. The ADS1299 is offered in a TQFP-64 package specified from –40°C to +85°C.
Features
Eight Low-Noise PGAs and Eight High-Resolution Simultaneous-Sampling ADCs
Very Low Input-Referred Noise:
1.0 µVPP (70-Hz BW)
Low Power: 5 mW/channel
Input Bias Current: 300 pA
Data Rate: 250 SPS to 16 kSPS
CMRR: –110 dB
Programmable Gain: 1, 2, 4, 6, 8, 12, or 24
Unipolar or Bipolar Supplies:

Analog: 4.75 V to 5.25 V
Digital: 1.8 V to 3.6 V

Built-In Bias Drive Amplifier,
Lead-Off Detection, Test Signals
Built-In Oscillator
Internal or External Reference
Flexible Power-Down, Standby Mode
Pin-Compatible with the ADS1298IPAG
SPI™-Compatible Serial Interface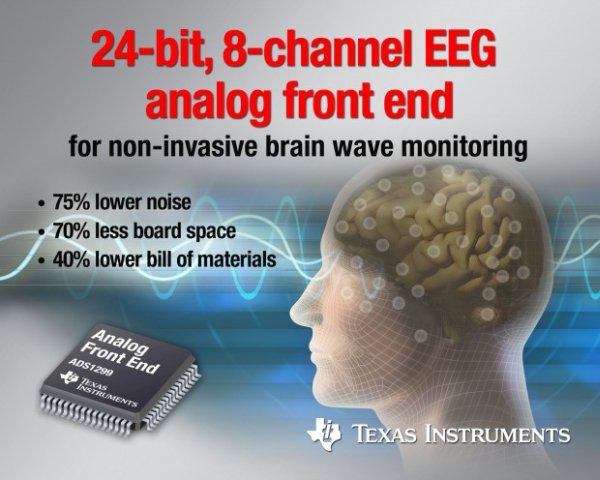 Texas Instruments has introduced a very low noise electroencephalography (EEG) analogue front end AFE device.
It is used for non-invasive monitoring of brain waves. The 24-bit, 8-channel ADS1299 is the first simultaneously sampling EEG AFE with input-referred-noise as low as 1µVpp.
The ADS1299 was designed for manufacturers of extra-cranial biopotential measurement equipment who want to reduce board space, design time and cost while improving performance.
It can be used in EEG equipment to monitor bispectral index, evoked potentials and event-related potentials to diagnose brain injuries, strokes and sleep disorders.
The ADS1299 can also be used in ultra-high-performance medical diagnostic and research-grade electrocardiogram (ECG) equipment.
For more read: TI has low noise chip for monitoring brain waves