While luxury carmaker Porsche works towards bringing an all-electric Boxster to production 11 years after it first started thinking about it, a sixteen-year-old from California's Napa County has side-stepped the long wait (and the high price tag) and converted his own.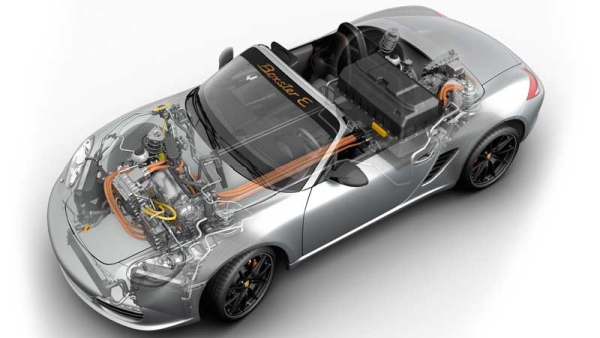 Joining the likes of Simone Giertz (who, tired of waiting for a Tesla ute, made her own), St Helena teen Isaac Kelly decided that he would convert the 2000 Porsche Boxster "just for fun".
Porsche first considered making an all-electric Boxster back in 2011 (not long after Tesla started making its first electric vehicle, the Roadster, on a Lotus chassis), previewing a concept at the Michelin Challenge in Berlin when Kelly was only 8 years old.
Fast forward eight years and Kelly, whose interest in conversions has led him previously to make radio-controlled planes and even an electric bike, spent the last 6 months not only converting the Boxster but also writing the software to control it.
"I had to do a lot of welding, a lot of math, and I got to write tons of code," Kelly told the Napa Vallery Register.
Converting the 2000 Boxster – which Kelly and his father got at a good price thanks to a common engine fault inherent in Boxsters of that vintage – cost around $US13,000 ($A18,600), says Kelly.
Using 92 Nissan Leaf battery cells, Kelly placed them in the rear cavity left from removing the faulty engine, in homemade housings sitting in a custom-made steel frame welded to the engine mounts.
Kelly then programmed four Arduino microcomputers to control the motor, regulate charging and monitor the battery pack.
The vehicle has about 60 miles (nearly 100km) of range, says Kelly, and with a 400 volt system can be charged at standard EV charging stations.
Despite the "grassroots" nature of the project, the electric Boxster still has plenty of grunt – Kelly says it can accelerate from 0-60mph (0-96.5km/hr) in 6 seconds – not too far off a Standard Range Plus Model 3.
Kelly admits the Boxster is not exactly practical: "You can't go very far and you can't carry very much. But it's a fun car, which is mostly the point," he says.
And although living smack-bang in the middle of one of the world's electric vehicle hotspots thanks largely to policy and financial incentives aimed at reducing carbon emissions, Kelly's primary focus was not on creating a zero emissions vehicle.
"It was just fun," Kelly says.
"And, of course, I learned a lot of stuff and was able to apply that knowledge. But mostly it's fun."
Source: Teenager converts Porsche Boxster to electric drivetrain