TLS715B0NA V50 – OPTIREG™ Linear Voltage Regulator is a low dropout linear voltage regulator for load current up to 150 mA. An input voltage of up to 40 V is regulated to VQ,nom = 5 V with ±2 % precision. The TLS715B0, with a typical quiescent current of 36 μA, is the ideal solution for systems requiring very low operating current, such as those permanently connected to the battery.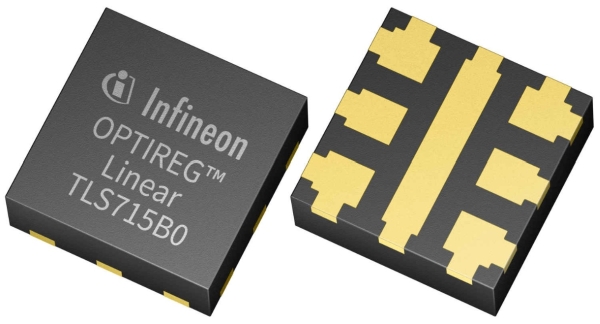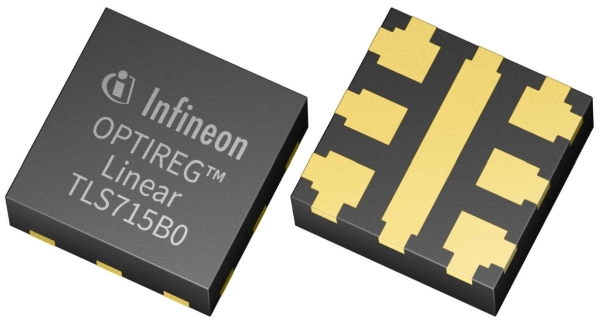 Summary Of Features
Wide Input Voltage Range from 4.0 V to 40 V
Output Voltage 5 V
Output Voltage Precision ±2%
Output Current up to 150 mA
Low Current Consumption of 36 μA
Very Low Dropout Voltage of typically 180 mV at 100 mA Output Current
Stable with Small Output Capacitor of 1 μF
Enable
Overtemperature Shutdown
Output Current Limitation
Wide Temperature Range from -40°C up to 150°C
Green Product (RoHS compliant)
AEC Qualified
What Are Flip-Chips?
With flip-chip technology, the ICs are installed upside down in the package. With the heated part of the IC facing the bottom of the package and being closer to the PCB, thermal inductance can be improved by a factor between 2 and 3. The higher power density enables a significantly smaller footprint than conventional package technologies.
The footprint of Infineon's new linear voltage regulator (TSNP-7-8 package, 2.0 mm x 2.0 mm) is more than 60 percent smaller than that of an established reference product (TSON-10 package, 3.3 mm x 3.3 mm) while the thermal resistance stays the same. This makes the new device particularly suitable for applications with very limited board space, such as radar and cameras. The OPTIREG TLS715B0NAV50 provides 5 V with a maximum output current capability of 150 mA.
Read more: INFINEON'S TLS715B0NA LDO REGULATOR USES "FLIP-CHIP" TECHNOLOGY TO DIFFUSE HEAT