Getting an old traffic light and wiring it up to do its thing inside your house isn't exactly a new trick; it's so common that it wouldn't normally pass muster for these hallowed pages. Even using one up to show the real-time status of your build or system resource utilization would be pushing it at this point. To get our attention, your traffic light is going to need to have a unique hook. So how did [Rona ...
Read more

›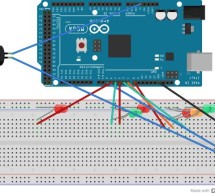 This video shows the Traffic light and pedestrian crossing I've implemented with an Arduino. It's a reproduction of the crossing near my home, timings taken from a video of it. Incidentally, I produced the diagrams for this using a product called Fritzing. It's a nifty piece of software that allows you to draw a breadboarded version of your circuit, lay out the circuit schematic and then aut ...
Read more

›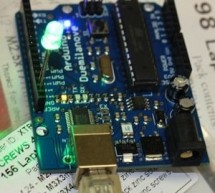 Last week, we learnt about the basic structure of an Arduino program and took a closer look at the 'blink' example. Hopefully you took the opportunity to experiment with code, adjusting the timings. This time, we'll be writing something from scratch. In fact, let's make a traffic light. Apart from the basic Arduino, you'll need: A red, yellow and green LED. A breadboard. 3 x suitable resistors for the LEDs ...
Read more

›
I made this project on the same night that my Arduino Duemilanove arrived from Cool Components. After being an Instructables member for about a year I though it was time I should contribute. There is another Arduino traffic light project similar to this, but it is much more complex; mine is aimed at beginners and children (who already know the basics). As a beginner to the Arduino I had spent a fair a ...
Read more

›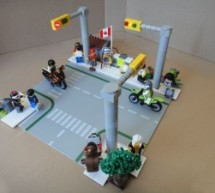 Video not playing? See it on YouTube: http://www.youtube.com/watch?v=q0tiiWwC6Zo Background Every Christmas we set up a large LEGO train layout in a section of the living room. This year, I ended up winning an eBay auction for a number of older-model LEGO road plates, one of which included a T-intersection. At about the same time, I saw a web magazine article on how to get started programming an Arduino emb ...
Read more

›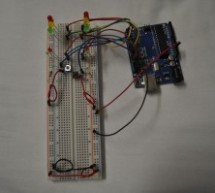 This is a beginners project for the Arduino. I am using the Arduino Uno but should work with little or no modification on other arduino models. Setting up the hardware is very easy. This project is more of a training tool for learning how to program a timer list while listening for a button press. Parts you will need. - Arduino - Solder-less Breadboard - 10 LEDs --- 2 Red --- 2 Yellow --- 2 Green --- 2 Smal ...
Read more

›