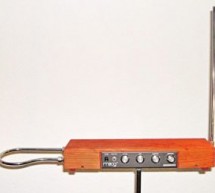 Theremin is an early electronic musical instrument controlled without physical contact by the thereminist (performer). It is named after the Russian inventor, Léon Theremin, who patented the device in 1928. A typical theremin musical instrument is shown in Fig. 1. This article explains how you can build an optical theremin using an Arduino Uno board and some readily available components. Etherwave ...
Read more

›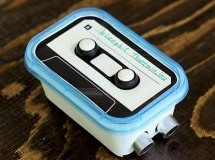 We don't think [bleepbit] will take offense when we say the "poor man's theremin" looks cheesy — after all, it was built in a cheese container. Actually, it isn't a bad case for a simple device, as you can see in the picture and the video below. Unlike a traditional theremin, the device uses ultrasonics to detect how far away your hand is and modifies the sound based on that. There are also two buttons — on ...
Read more

›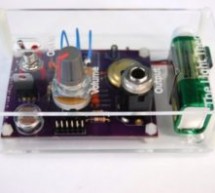 I started out a little over two years ago on work experience, before going on to become a trainee engineer, having decided that I would like to pursue a career in electronic engineering. At work I get to do a wide variety of things, such as laser cutting, assembling kits and even some prototyping. Over the past two years I've spent quite a lot of time learning microcontroller basics, mainly working with Ard ...
Read more

›
In this instructable, I will show you how to make a simple toy that combination of the LEDs flash and Theremin. We're gonna using some basic electronics built on top of an Arduino. The basic idea of 7 Segment LED Display was from Enjoying Electronics. The original Enjoying Electronics article is here, you can get more details of explanation about making 7 Segment LED Display there. The basic idea was to use ...
Read more

›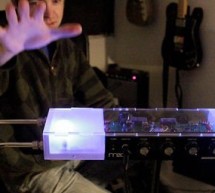 I'm going to go through my process of hacking a Moog Etherwave Theremin. I created a new acrylic top, partially sanded to be translucent in certain areas, and created my own circuit around an ATMega168 Arduino Bootloaded microcontroller which is stealing a control voltage from the theremin's board and is driving 2 RGB LEDs which react to your playing. In this project I embed what I call a hackduino which is ...
Read more

›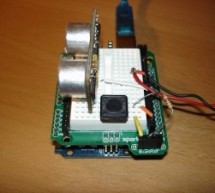 When I got my Arduino protoshield from sparkfun, I wanted to make something cool with it. And since I had seen a few Theremin projects before, and already thought about making some, I finally made one, using the Parallax PING sonar sensor. Here are some informations about how I made it. You can see all the pictures here First, the schematics: Here's the commented code for the Arduino: int pingPin = 7; int b ...
Read more

›
I created this Theremin like device after seeing this article in Make magazine: http://m-cdn.dashdigital.com/make/vol15/?pg=69#pg67 While this looked pretty straight forward it turned out to be a bit much for me at the time.  But after much effort, I got it to work pretty good. I had trouble getting the laser to aim correctly so I chose to mod a zapper I had available to hold the laser.  This worked well. S ...
Read more

›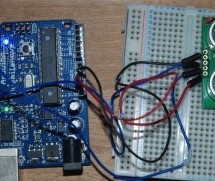 My last theremin involved a small speaker. Now I've replaced the speaker with my PC, using processing to pick up the values from the SRF05 ultrasound sonar distance sensor and play different notes accordingly – which gives multiple possibilities and far better sounds. So to start with check out my previous theremin, the circuit is the same except for removing the speaker and the Arduino code now prints valu ...
Read more

›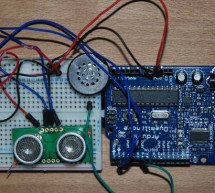 Theremins are cool. Fact. You may also have heard of them as either aetherphone/ etherophone or termenvox/ thereminvox. Essentially its an electronic music instrument that plays a certain note depending on the position of your hand and its distance from an antenna. Building a very basic one with Arduino is easy – easier than my basic Arduino drum machine. Very easy. Basically we can replicate one by buildin ...
Read more

›