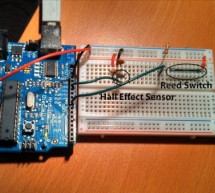 One of the goals of Movable Party is to provide an interactive experience for audiences/participants. Since power will be generated from a hub motor attached to the rear wheel of each bike (see this post), the speed of the rear wheel directly translates to the amount of power generated. Detecting how fast the rear wheel is moving thus seems like the most obvious/important piece of data to capture from these ...
Read more

›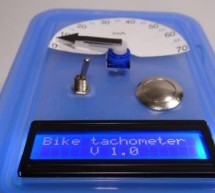 I will show you how to build a bike speedometer. It shows your speed, the average speed,the temperature, the trip time and the total distance. You can change it using the button. Additionally, the speed is shown on a tachometer. I built it because I like building new things, I have not found anything like this on the internet so I want to show you how to build a good speedometer as the one on my bike is not ...
Read more

›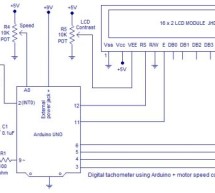 Digital tachometer using arduino plus speed control. Tachometer is a device used for measuring the number of revolutions of an object in a given interval of time. Usually it is expressed in revolutions per minute or RPM. Earlier tachometers purely mechanical where the revolution is transferred to the tachometer through mechanical coupling (cable or shaft) , the rpm is determined using a gear mechanism and i ...
Read more

›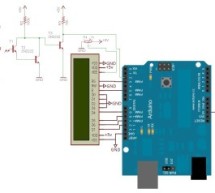 Chris, from PyroElectro.com, proposes a comprehensive tutorial on how to make a simple, yet effective, Arduino-based tachometer. The circuit is very simple: an IR led is coupled with an IR phototransistor to detect possible interruptions of the light beam, while the Arduino is responsible to calculate the time interval between two such events. Finally, a LCD is used to display the current RPM to the user. T ...
Read more

›
Arduino projects, make arduino rpm counter with arduino. Instruction; 1) Connect all jumper wire as shown in diagram. 2) Connect IR LED to digital pin 13. 3) Connect IR Phototransistor (dark) to digital pin 2. Make sure shorter lead connected to digital pin 2 and longer lead to Ground. Upload this code to your arduino /* * Optical Tachometer * * Uses an IR LED and IR phototransistor to implement an o ...
Read more

›