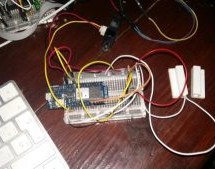 IoT security/environment monitoring device with NFC & fingerprint authentication devices and a Weak Artificial Intelligence Assistant. INTRODUCTION: This project consists of three devices: 2 x Arduino Uno boards (AuthWayNFC & AuthWayFP) 1 x MKR1000 (DoorGuard1000) 1 x Windows Universal Application (TIA). The two Arduino Uno boards are used for authentication to the Windows application and the MKR100 ...
Read more

›
In this project you're going to monitor the status of a door using an ESP8266. The goal of this project is to show the endless possibilities that this $4 WiFi module offers when integrates with a free platform that I'm about to show you. Before continue reading this project, please complete the following tutorials or use them as a reference: How to get started with the ESP8266 How to Install the ESP8266 Boa ...
Read more

›
This little Instructable will show you how to use a 320x240 pixel LCD screen connected to an Arduino Uno with a network shield too, to show stats for Youtube channels. I created this as I wanted to see how many subscribers and views I had on my channels without having to check Youtube :) The stats update on the LCD screen every minute using the google api. You will need the following: Arduino Uno Arduino Et ...
Read more

›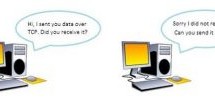 INTRODUCTION In this project, we will learn the basics of Transmission Control Protocol (TCP) and how to communicate to a webserver over TCP. We will request and receive packets from the Google web server using the above communication protocol. The 4Duino display is used to print the status of the connection and the received information for debugging purposes. Transfer of Data over Internet The 2 most commo ...
Read more

›
There are but a few things better than (succesfully) programming and using your Arduino. Surely one of those things is using your ESP8266 as an Arduino with WiFi! In this instructable I will show you an EASY way to get the ESP8266 working as a web server AND accessing that server from anywhere (over the internet) Also if you find this instructable interesting, perhaps you'll like some of my others: EASY Ard ...
Read more

›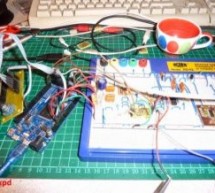 Motivation Implementing an IoT prototype utilizing an Arduino that doesn't natively support WiFi can be cumbersome. Sure there are some pretty good options for native support. The MKR1000 natively supports WiFi, but this ease comes at a price. The SAMD21 is essentially half as powerful as the SAM3X8E on the Due. Why not have the best of both worlds? Give me the speed, storage, and excessive amount of I/O av ...
Read more

›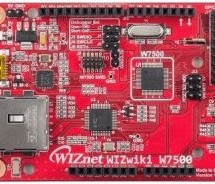 Introduction On 31 August 2015 I got the new WIZnet platform board, the WIZwiki-W7500 that is based on a Cortex-M0 cpu at 48MHz with 128 kBytes of flash memory and 48 kBytes of RAM shared with the hardwired TCP/IP core. The RAM amount used by the TCP/IP core can be upto 32 kBytes leaving the rest 16 kBytes to the user (32 + 16 = 48 kBytes of RAM). The W7500 is a 3.3V device but according to the WIZnet the b ...
Read more

›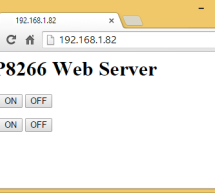 If you want to learn more about the ESP8266 module, first read my Getting Started Guide for the ESP8266 WiFi Module. In this project you'll create a standalone web server with an ESP8266 that can toggle two LEDs. Why flashing your ESP8266 module with NodeMCU? NodeMCU is a firmware that allows you to program the ESP8266 modules with LUA script. And you'll find it very similar to the way you program your Ardu ...
Read more

›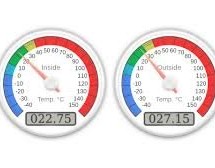 This project consists of two temperatures that are measured by the Arduino using two MCP9700 temperature sensors An Arduino Uno and Ethernet shield are set up as a web server that hosts a web page to display the two temperatures on two gauges. The web page is stored on a SD card that is plugged into the micro SD card socket on the Ethernet shield. A web browser is used to display the two temperature gauges ...
Read more

›

This server room environmental monitoring system is a low cost high performance device with the same onboard features as commercial devices costing hundreds of dollars more. In addition to a low cost platform we will provide low cost sensors for many important devices to insure your equipment stays safe and sound. Full instructions are available at sproutboard.com as well as several kits to create some very ...
Read more

›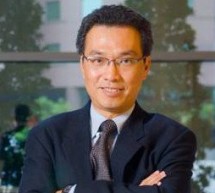 Global Unichip, TSMC's design arm, has made a remote management controller ASIC for server and desktop virtualization by adopting the first DDR3/4 PHY targeting TSMC's 40LP process technology. "The complexity of today's server market is absolutely astounding. Performance was once king but today server SoC's must also provide cost-effective performance. The innovation required to achieve this sweet spot, par ...
Read more

›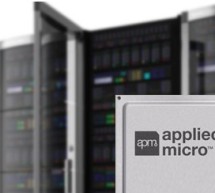 Applied Micro leads the charge to infiltrate the $12 billion server processor market with ARM-based ICs. This is not a trivial task. The $54 billion gorilla standing in Applied Micro's way is Intel with a 90% plus share of the server processor market. So what, if any, are Applied Micro's selling points compared to Intel's? First and foremost there's the business model. "Competition is what we're bringing," ...
Read more

›