This project is a relatively straightforward and simple DIY music board. The Dot Matrix Board will allow any aged person to create their own music and beats. All you need to have is an understanding of Arduino and circuitry. Step 1: Gather Parts Needed [box color="#985D00" bg="#FFF8CB" font="verdana" fontsize="14 " radius="20 " border="#985D12" float="right" head="Major Components in Project" headbg="#FFEB7 ...
Read more

›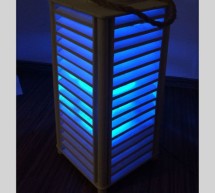 In this instructable the main focus lies on the software which I've created - not so much on the hardware side. You needn't to use a high- power led for this, you can use every RGB- LED you like. The "High Power RGB LED Moodlamp" is a high power rgb led lamp which can be controlled via http commands with help of the cloud basedmicrocontroller ElectricIMP and an Arduino Uno. It can be synchronized with exist ...
Read more

›
This video explains how to use the 16 channel PWM controller TLC5940 The CODE: //Texas Instruments TLC 5940 with Arduino //www.kevindarrah.com #include <SPI.h>//Serial Peripheral Interface Library byte ch=0, chbit=0, spibit=0, spibyte=0;// variables used by tlc sub routine int SINData;//variable used to shift data to the TLC byte transferbyte[48];// bytes that are sent out to the tlc5940 via SPI // 48 ...
Read more

›
To Learn about the basic LED usage practice, read here. What is a RGB LED? With an RGB (Red Green Blue) LED you'll be able to produce any colour that is flashing everyone's eyes. At first glance, RGB LEDs look just like regular LEDs, however, inside the usual LED package, there are actually three LEDs, one red, one green and yes, one blue. By controlling the brightness of each of the individual LEDs you can ...
Read more

›
A couple of mounts ago i order a 1M long WS2801 RGB led strip, just for fun. I took me a while to get the strip working with my Arduino. The next step was to figure out what to do with the strip. after some time the idea came to me: a Bluetooth controllable floor lamp. I ordered 4 extra bright 'warm' White Led strips, in order to make the Floor lamp useable on a daily basis. I need to say, I made this lamp ...
Read more

›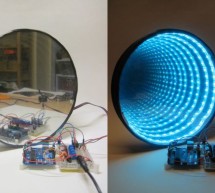 Update 11/22/2013: Thanks to everyone who voted for this project in theMicrocontroller Contest! It was one of three first-prize winners. Update 9/17/2013: Thanks to everyone who voted for this project in the Arduino contest (I was one of ten "second prize" winners)! If you want to try this project with an addressable LED strip instead of an analog strip, check out the Rainbow Jarproject (also an Arduino con ...
Read more

›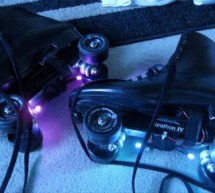 I like to go skating every week but I noticed that the my skates weren't cool enough so I decided it was time for some lights! I installed these lights on my Dad's skates as a thank-you present for taking care of the pool for us :D. Thanks Dad! The project is just two RGB LEDs controlled by a ATtiny2313. Very cheap and easy to make with GREAT results! Please give it a vote for the Microcontroller and I Coul ...
Read more

›