Hello everyone, In this instructable, we will be building a laser guided tripwire alarm system using a development board. Step 1: Parts Components used in this project: Development board - SainSmart Leonardo R3 Enclosure - Junction Box Trip wire - Red Dot Laser Diode Alarm - Buzzer Sensor - Photoresistor Power supply - 9v battery Wire - Male to Female Breadboard Jumper cable Resistor - 10k I used an improvi ...
Read more

›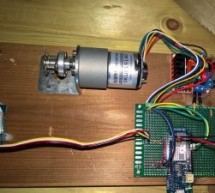 Automating a chicken coop with sensors and actors, using an Arduino MKR1000 and the Blynk internet dashboard. Things used in this project Hardware components Arduino MKR1000 × 1 CHIHAI DC Motor - 12V 200rpm Encoder with Mounting Bracket × 1 Geekcreit L298N Dual H Bridge Stepper Motor Driver Board For Arduino × 1 Photo resistor × 1 DHT22 Temperature Sensor × 1 Software apps and online services Blynk Story In ...
Read more

›
You know theremins, right?  Those cool-looking boxes with antennae that produce noise without being touched?  They are played by the likes of Jimmy Page of Led Zeppelin, and present in the soundtracks of countless films.  Well, with this instructable, I will show you how to build an approximation of a theremin (in principle, at least) using some basic electronics built on top of an Arduino, which I call a g ...
Read more

›