Chicken Coop Automation
Automating a chicken coop with sensors and actors, using an Arduino MKR1000 and the Blynk internet dashboard.
Introduction
To protect our new chickens from the different predators, an automatic door is needed. We had a look on the available solutions on the market, but none could meet our requirements: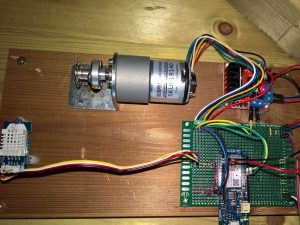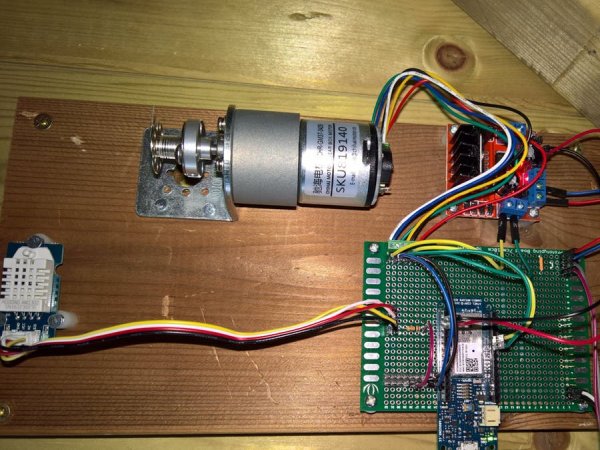 Remote monitoring and control by using an app
Possibility to add additional sensors and actors to measure temperature or buzzer alert
It would be way more fun to build it myself, so this is the start of my first microcontroller project.
Concept
A simple aluminium plate with guide rails will serve as the door. It is attached to a DC motor by using nylon wire. The DC motor includes a gearbox, resulting in 200 rpm on 12V DC. The used motor has a hall sensor encoder built in. To keep the door in the "up" position, it is not needed to engage the motor. Resulting power consumption will therefore be very low.
The control module I used is the Arduino MKR1000. It has WiFi built in and plenty of I/O. I have installed a WiFi Access Point in my garden shed, so WiFi reception is perfect within my chicken coop.
After booting or restarting the Arduino, the first step will be to "calibrate" the encoder values for its up and down positions. The app will ask to give the Up command or to confirm the door is already in the Up position. Once done, the encoder value is set to zero.
For the next step, the app will ask to give the Close command and Close confirmation. The encoder value at that moment will be stored in a variable. From now on, we can control the door between a zero encoder value and closed encoder value.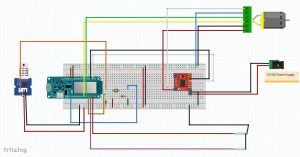 To control the door automatically, I've used a cheap photoresistor. Threshold value for daylight and sunset are preset within the Blynk dashboard as well as the operating mode: manual or automatic.
The DHT22 temperature & humidity sensor is only used to monitor both values.
Read more: Chicken Coop Automation
Project Ratings:
Related posts