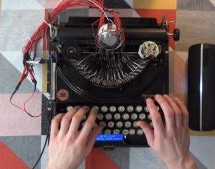 We have seen a fair share of unusual items being turned into musical instruments. Luckily, with a little bit of hacking it is possible to turn almost anything into a MIDI controller. [William Sun Petrus] just converted a 1920s typewriter into a drum machine and delivers a hell of a live performance on it. The build is rather simple, all [William Sun Petrus] needed was an Arduino Mega and lots of wires to co ...
Read more

›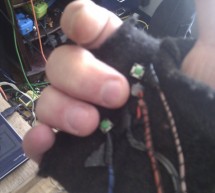 Connecting an Arduino microcontroller to Pd is no big problem: You can just put Firmata on your Arduino and use the Pduino library for communication on the Pd side. But sometimes Firmata is not the answer to every problem: You may want to turn on the built-in pull-up resistors for digital input pins, you may want to do some calculation on the Arduino before sending a message, or you may want to send a messa ...
Read more

›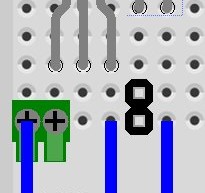 One of the directors has asked me to create a special backdrop for our college musical. This particular backdrop has a particular design (see below) that includes LED strip lighting to give the feel of a 1920s casino sign – similar to what is seen today in Las Vegas. I  have done up a detailed design for this sign, based off the rough sketch given to me by the director and the dimensions of the backdrop.  O ...
Read more

›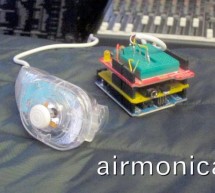 improvise + harmonize + customize The airmonica is a easy-to-learn tweakable musical instrument that you can use to perform harmonic musical ditties by accompanying a tri-tone arpeggiator. There are endless opportunities to expand the airmonica in any way that will make it your your own custom instrument. The airmonica consists of three parts: 1. a wii compatible nunchuck as the instrument interface 2. an a ...
Read more

›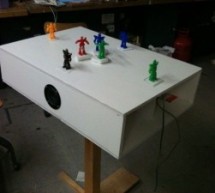 The Musical Table is a toy table that allows kids to play musical phrases by moving toys around the surface. Each of seven switches can play different musical phrases in four bases, making 27 different musical phrases in total.  Some of the phrases are musically related and some of them are not. This toy table can help kids to develop musicality by playing phrases in logical order. The table also allows y ...
Read more

›
This tutorial will show you how to create a garment that changes its behavior depending on how conductive you are. It detects conductivity through iron-on conductive fabric that we will use, and it will light up and sing different notes depending on how you touch the conductive fabric. We'll be using sewable electronics (the LilyPad arduino module) and conductive threads and fabrics so that your garment wil ...
Read more

›
If you've ever wanted to bring a piece of paper to life, now is your chance. This instructable will take you through all the necessary steps to create an amazing interactive flyer or artwork. This event flyer is no ordinary piece of print. It is printed using Bare Conductive ink. This means that when it is brought along to the event it can be plugged in and transformed into a musical instrument! The large p ...
Read more

›