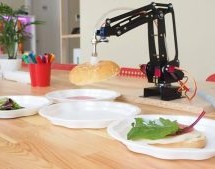 Building a robot arm is fun, but no longer the challenge it once was. You can find lots of plans and kits, and driving the motors is a solved problem. However, there is always one decision you have to make that can be a challenge: what effector to put on the end of it. If you are [MertArduino] the answer is to put suction at the end. If you need to grab the right things, this could be just the ticket for re ...
Read more

›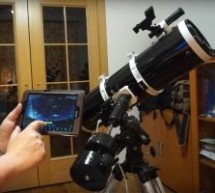 In times like these, we all need to look beyond ourselves. This project might help: OnStep is an open-source telescope controller, a device that controls a telescope to point at something interesting in the sky. Want to take a look at M31? Use an app on a PC or smartphone, select the object and the OnStep will pan and tilt your telescope until the Andromeda Galaxy pops into view. Smart telescopes are not ne ...
Read more

›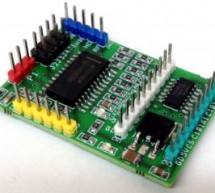 The board shown here is a breakout board for MC33035 brushless motor controller. It requires an output buffer IPM module or Mosfets to complete the closed loop brushless motor driver. MC33035 IC is the heart of the project; the project provides 6 PWM pulses as well 6 Inverse pulses outputs. On board Jumpers helps to change the Direction, Enable, Brake, and 60/120 phasing Header connector provided to connect ...
Read more

›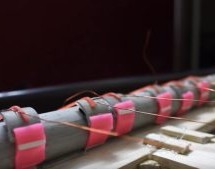 It's one thing to be able to transcribe music from a flute, and it's another to be able to make a flute play pre-written music. The latter is what [Abhilash Patel] decided to pursue in the flute player machine, an Arduino-based project that uses an air flow mechanism and PVC pipes to control the notes produced by a makeshift flute. It's currently able to play 17 notes, just over two octaves starting from th ...
Read more

›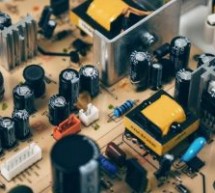 One of the biggest dreams anyone has is to make a living doing what they love. For all hackers, makers, and DIYers with a passion for embedded systems, it may make sense initially to pursue embedded systems design as a possible career, but without so much information on the types of qualifications or steps needed to actually secure a job offer, it may seem daunting to try and break into the field. YouTuber ...
Read more

›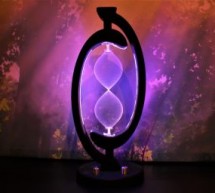 This thing right here might be the coolest desk toy since Newton's Cradle. It's [Stephen Co]'s latest installment in a line of mesmerizing, zodiac-themed art lamps that started with the water-dancing Aquarius. All at once, it demonstrates standing waves, persistence of vision, and the stroboscopic effect. And the best part? You can stick your finger in it. This intriguing lamp is designed to ...
Read more

›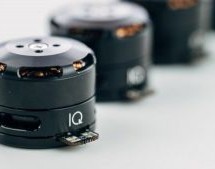 The drone industry is booming, and the technology is just… cool, to put it plainly. Flying robots, many of which are completely autonomous delivering our goods and also spying on us. Makers and hobbyist are getting on the bandwagon, making their customized drones with available parts. With the boom of UAV (Unmanned Autonomous Vehicle) and Drone technology also comes the growth of issues. Electric motors are ...
Read more

›

With the host of protocols available in electronics interfaces, choosing a protocol is a hard job. Some protocols are designed for long distance and reliable communication applications such as RS-485. Others are used for low cost and short range communication such as I2C, and so on. The backbone car's network is the Controller Area Network (CAN). CAN is reliable and adopted widely in automotive industry but ...
Read more

›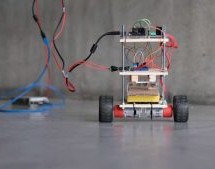 There are many people who find being around insects uncomfortable. This is understandable, and only likely to get worse as technology gives these multi-legged critters augmented bodies to roam around with. [tech_support], for one, welcomes our new arthropod overlords, and has even built them a sweet new ride to get around in. The build follows the usual hallmarks of a self-balancing bot, with a couple of in ...
Read more

›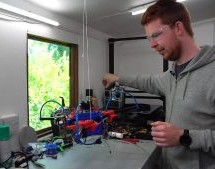 You've got to hand it to [Tom Stanton] – he really thinks outside the box. And potentially outside the atmosphere, to wit: we present his reaction control gas thruster-controlled drone. Before anyone gets too excited, [Tom] isn't building drones for use in a vacuum, although we can certainly see a use case for such devices. This is more of a hybrid affair, with counter-rotating props mounted in a centrally ...
Read more

›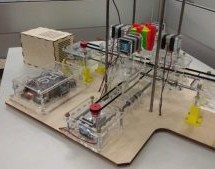 The Rubik's Cube was a smash hit when it came out in 1974, and continues to maintain a following to this day. It can be difficult to solve, but many take up the challenge. The Arduino Rubik's Solver is a robot that uses electronics and maths to get the job done. The system consists of computer-based software and a hardware system working in concert to solve the cube. Webcam images are processed on a compute ...
Read more

›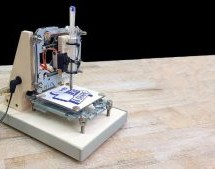 Building your own CNC machine can present a series of varied challenges. There are the software considerations, but also the mechanical side of things – motors, shafts, screws and slides all need to be addressed in a working design. Of course, you can always outsource some of the work – and that's precisely what [Daniele Tartaglia] did  with this pen plotter build (Youtube link, embedded below). The build g ...
Read more

›