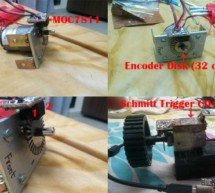 INTRODUCTION : The development of high performance motor drives is very important in industrial as well as other purpose applications.  Generally all high performance motor drives use quadrature encoders and PID control because of its simplicity and precise control.  The quadrature encoder acts as a feedback from the motor, it is connected to the microcontroller for furthur processing. With the use of Ardui ...
Read more

›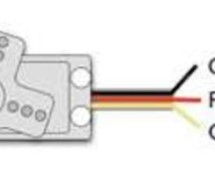 Hey everyone. I hope you will be fine. As you know that last time, we had started Arduino UNO course and given you a brief introduction how to simulate the LED blinking via Arduino UNO and its implementation in proteus ISIS. Now, today we are going to implement Servo Motor Simulation via Arduino UNO in proteus ISIS. What is Servo Motor? With the help of servo motors you can position the motor shaft at a spe ...
Read more

›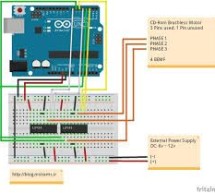 In this post I will describe the hardware and the software part of a project involving the use of BLDC (Brushless DC) motor salvaged from a broken XBox 360. This is a second installment in the series of posts related to Arduino and brushless DC motors. Please see the first part for a bit of info on the theory behind the commutation sequence. Once you understand the commutation sequence for the particular de ...
Read more

›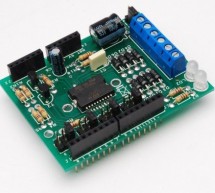 We are not the first to make an Motor Shield for Arduino.  But could be that we are the first that make a Motor Shield with a minimum of flexibility. We are studing a WiFi robot with camera controlled by Arduino. The robot will be controlled by browser. But we find a problem with an existing shield: the pin SPI to controll Ethernet shield (that become WiFi shield) are the same of motor shield. So we reengin ...
Read more

›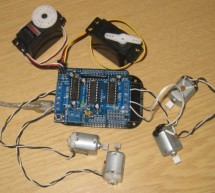 This post starts a small (or larger?) series of tutorials using the Arduino Motor/Stepper/Servo Shield with the FRDM-KL25Z board. That motor shield is probably one of the most versatile on the market, and features 2 servo and 4 motor connectors for DC or stepper motors. That makes it a great shield for any robotic project The series starts with a tutorial how to drive two servo motors. And if this is not wh ...
Read more

›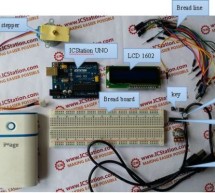 Project Summary: This project uses ULN2003 chip to drive. The working voltage is DC5V. It is widely used on ATM machine, inkjet printer,cutting plotter, fax machine,spraying equipment, medical instruments and equipments, PC peripheral, and USB Mass Storage ,precise instrument,industrial control system,office automation,robot areas,etc. Bill of Materials: 1.Arduino  UNO V3.0 R3 Board or Compatible Arduino 2. ...
Read more

›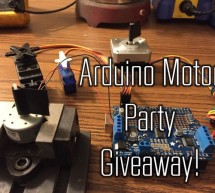 In this instructable I will show you how to throw an Arduino motor party. I will also be giving away an Arduino Mega, Arduino Uno, and an Arduino Pro Mini. (Details at the end) Step 1: Assembly + Code You'll need a handful of motors to throw a party. I used 2 servo motors, 1 stepper motor and 1 dc motor. You will also need an Arduino Uno, an Adafruit Motor Shield and a separate 5-12vdc power supply for the ...
Read more

›
Get your Arduino moving! This shield makes it easy to control two high-power DC motors with your Arduino or Arduino-compatible board. Its dual robust VNH5019 motor drivers operate from 5.5 to 24 V and can deliver a continuous 12 A (30 A peak) per motor, or a continuous 24 A (60 A peak) to a single motor connected to both channels. These great drivers also offer current-sense feedback and accept ultrasonic P ...
Read more

›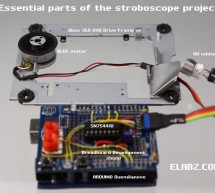 It has been all dry theory in the Brushless DC (BLDC) motor with Arduino series up to this point. This is where it gets to be more fun. If you've just arrived, please check out the previous two installments: Driving a three-phase brushless DC motor with Arduino – Part 1. Theory Brushless DC (BLDC) motor with Arduino – Part 2. Circuit and Software In this final part of the trilogy I am describing the hardwar ...
Read more

›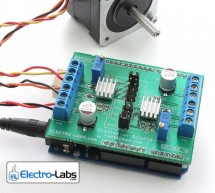 Stepper motors are brushless DC motors which can move in discrete steps thanks to the special coil arrangement inside. They are very popular in DIY and industry projects which require accurate mechanical movement control.  In this SoloPCB project, we are building a dual stepper motor driver shield based on two Allegro A4988 ICs which can supply up to 35V and 2A and provide overcurrent and thermal protection ...
Read more

›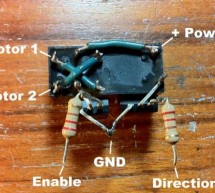 This project uses just three main components to provide forward and reverse control for a single motor.  You can easily interface it to an Arduino or any other microcontroller. It's so simple - you can wire it up "free-form" without a circuit board in about 15 minutes. Features: All parts available at Radio Shack for under $9 Supports PWM for variable speed control Handles up to 5 amps peak / 2.5 amps conti ...
Read more

›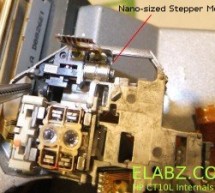 This little wonder of electromechanical engineering came from inside a laser diode sled of an HP CT10L Bluray drive I've opened some time ago. The device on the picture consists of several parts, all easily fitting on a dime coin: a bipolar stepper motor with lead screw, a linear stage, a lens, and even an end position sensor (I've yet to make use of the sensor though). The entire assembly is only 14mm x 9m ...
Read more

›