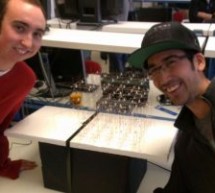 The objective of our final project was to build a 5x5x5 RGB LED cube that can display a certain color depending on the frequency of music playing. There are two main components of this project. [gallery columns="2" size="medium" ids="31240,31241"] The first part is the hardware setup that consists of the LED cube and the circuits that drive the power for each LED which is controlled through an Arduino Uno m ...
Read more

›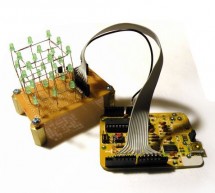 There are other Instructables about building LED cubes, this one is different for several reasons: 1. It's built with a low number of off-the-shelf components and hooks up directly to the Arduino. 2. A clear, easy to reproduce circuit diagram is provided with plenty of photos. 3. A unique approach is used for the software which makes programming the cube easier and more expressive. Parts needed: -   1 Perfb ...
Read more

›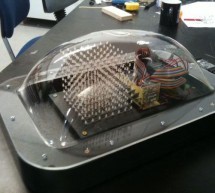 The 3D LED Cube is a really cool device that enables you to see in three dimensions, get some depth perception and has 512 LED's or 512 pixels. It is based on an arduino uno which is an Atmel AVR microcontroller on a development board with some standard interfacing pinouts that allow you to quickly assemble prototypes. Step 1: 3D LED Cube Hardware The best way to look at the hardware system is to break it u ...
Read more

›
As someone who is very new to digital electronics this LED cube was fun to make, challenging and a great lesson in soldering. If you have some patience (64 LED's to solder!) and steady hands, this project will be well worth it in the end! Step 1: Materials & Tools Materials: -64 LED's ( I used 3mm ones on my cube) -16 resistors ( I used 330ohm) -solid uninsulated wire to connect the rows of LED's togeth ...
Read more

›
LED cubes are true 3D displays that work by lighting up points in a 3D lattice of LEDs. On the 3D display you can produce some truly mesmerizing animations.  This Instructable will walk you through creating an LED cube for yourself that is completely self-contained and powered by an Arduino Mega.  Once you have it programmed, all you have to do is plug it into the wall and it will display whatever you tell ...
Read more

›
This is a instructable which is based on the Cube by Chr, ( http://www.instructables.com/id/Led-Cube-8x8x8/ ) by SuperTech-IT, ( http://www.instructables.com/id/CHRs-8X8X8-LED-Cu... ) and by das-labor.org, ( http://www.das-labor.org/wiki/Borg3d_Bauanleitung... ) but i think its better and easier. I started this Project without any skills from soldering toprogramming. First of all I apologize first for my po ...
Read more

›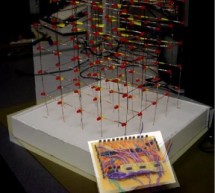 Introduction Our project, in one sentence, is an orientation independent 3D LED display. We were inspired by various videos on youtube of similar cubes but also by the idea of creating an interactive 3-dimensional display. We built a 5x5x5 LED cube display and controller board which interfaced the cube to a Mega32 microcontroller. We can display a wide range of low resolution 3D images or animations ...
Read more

›