There's no project that dives into existential quandaries more than a useless machine, as they can truly illustrate the futility of existence by turning themselves off once they have been powered on. Typically this is done with a simple switch, but for something that can truly put the lights out, and then re-illuminate them, [James]'s latest project is a useless machine that performs this exercise with a ca ...
Read more

›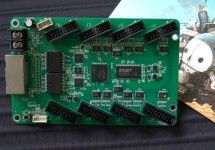 Our new part of the day is the ColorLight 5A-75B, a board that's meant to drive eight of those ubiquitous high-density color LED panels over gigabit Ethernet. If you were building a commercial LED wall, you'd screw a bunch of the LED panels together, daisy-chain a bunch of these boards to drive them, supply power, and you'd be done. Because of that high-volume application, these boards are inexpensive, arou ...
Read more

›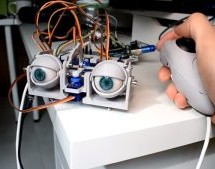 [Will] wanted to build some animatronic eyes that didn't require high-precision 3D printing. He wound up with a forgiving design that uses an Arduino and six servo motors. You can see the video of the eyes moving around in the video below. The bill of materials is pretty simple and features an Arduino, a driver board, and a joystick. The 3D printing parts are easy to print with no supports, and wi ...
Read more

›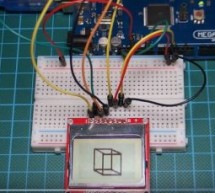 INTRODUCTION In one of our previous tutorials we did an introduction on how to use the Nokia 5110 LCD  with the Arduino, the tutorial covered displaying texts with different fonts etc. For this tutorial, we are taking things a little bit further and will be working through the display of customized graphics on the Nokia 5110 LCD display. This tutorial will particularly be useful for those who want to displa ...
Read more

›
Arduino is slow? What? This instructable will show just how slow a part of Arduino is, and how to fix it.  It's true – more specifically, Arduino's digitalWrite command takes a considerable amount of time. If you are just switching on a LED once or something, you won't be able to notice it. However, I realized how slow it was while I was trying to use a TLC5947 PWM driver. That requires the microcontroller ...
Read more

›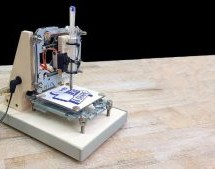 Building your own CNC machine can present a series of varied challenges. There are the software considerations, but also the mechanical side of things – motors, shafts, screws and slides all need to be addressed in a working design. Of course, you can always outsource some of the work – and that's precisely what [Daniele Tartaglia] did  with this pen plotter build (Youtube link, embedded below). The build g ...
Read more

›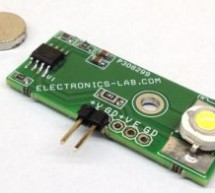 Contact-less controlled automatic wardrobe light turns on the LED when you open the wardrobe door. Τhe project is based on Hall effect IC including LED driver and tiny magnet. Board doesn't require any mechanical switch. When magnet is close to the board, LED is off, when you open the wardrobe door magnet goes far from hall IC and its turn on the LED, the IC also has special features like soft start and sof ...
Read more

›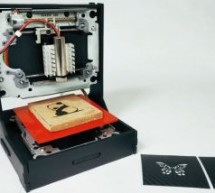 The YouTube channel DIY Builder has published and created a DIY Arduino laser engraver which is powered by an Arduino Nano development board and is fitted with a 200-250mW 650nm Laser Module. Check out the video below to learn more about the DIY Arduino laser engraver constructed using the innards from an old PC DVD player. A full list of all components has been provided enabling you to get everything ready ...
Read more

›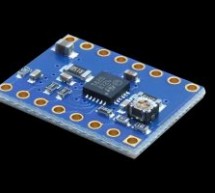 The EVALSP820-XS is a compact and easy to use evaluation board for the STSPIN820, the world's smallest 45 V microstepping motor driver rated at 2.5 A. It provides a very compact solution to evaluate the performance of the STSPIN820 stepper motor driver with a minimum set of additional equipment and without the need of additional devices. The hardware is fully compatible to be used together with RAMPS or oth ...
Read more

›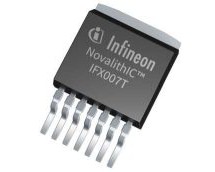 Infineon Technologies is launching the IFX007T NovalithIC™ motor driver for industrial applications. The IFX007T smart half-bridge provides an easy and efficient way to drive brushed and brushless motors, integrating a p-channel high-side MOSFET, an n-channel low-side MOSFET and a driver IC into one package. Along with a microcontroller and power supply, no other devices are necessary to drive a motor. For ...
Read more

›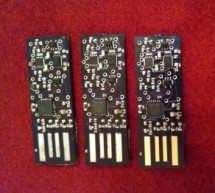 Infinite Noise TRNG (True Random Number Generator) For instructions for compiling the and using Infinite Noise TRNG driver, go to the software sub-directory, and read the README file there. Both Linux and Windows are supported. The Infinite Noise TRNG is a USB key hardware true random number generator. It uses what I call a "Modular Entropy Multiplier" architecture (previously Infinite Noise Multiplier or F ...
Read more

›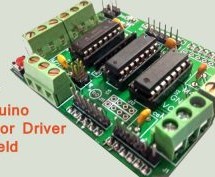 In this DIY session, we make an Arduino Motor Driver Shield to drive DC motors, stepper motor and Servo Motor. Compatible with Arduino UNO and Arduino Mega, this motor driver shield can operate 4 DC motors or 1 stepper motor and 2 servo motors at a time. Here two L293D Motor Driver ICs are used for driving motors and an 8-bit shift register for controlling them. Components Required Motor Driver IC L293D -2 ...
Read more

›