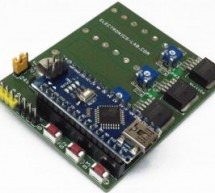 This is my second project for LED Driver based on CAT4101 IC. The first project was for single White LED. This project has been designed to drive 3 channels of RGB LEDs with PWM signal which helps to create multicolor LED light. Arduino Nano is used to generate PWM signal for RGB LED and board has 3 tactile switches and Analog signal input to develop various RGB LED related applications. Each channel can dr ...
Read more

›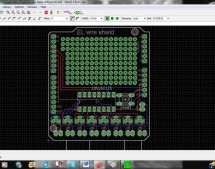 In this instructable I will show you how to make your own professional looking arduino shield. In the proses of designing the arduino shield I will use eagle.cad, arduino software & viewplot. First step in making a arduino shield is thinking of what you want it to be. depending on what your shield is going to be will vary the parts that you will need for it. PS: the picture is a sneek peek  on my new ar ...
Read more

›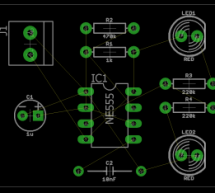 Designing a PCB layout is a work of engineering art, includes placing components and routing them through different layers. So when you assign the same job for different engineers, each one would make it in his own way. But sometimes when working on a complex design some help may be necessary to finish the work. Autodesk EAGLE provides an autorouter feature which may assist you in many cases. The autorouter ...
Read more

›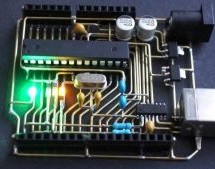 Microcontroller demo boards such as the Arduino UNO are ubiquitous on Hackaday as the brains of many a project which inevitably does something impressive or unusual. Sometime someone builds a particularly tiny demo board, or an impressively large one. In the case of the board featured here, the Arduino is a gorgeous labor of love which can't really be called a board since there is no PCB. Instead of the tra ...
Read more

›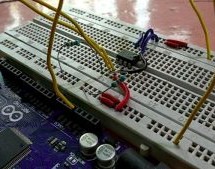 There are plenty of techniques and components that we use in our everyday hardware work, for which their connection and coding is almost a done deal. We are familiar with them and have used them before, so we drop them in without a second thought. But what about the first time we used them, we had to learn somewhere, right? [TheMagicSmoke] has produced just what we'd have needed then for one component that' ...
Read more

›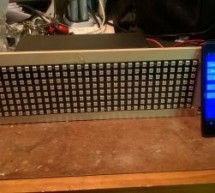 Ever want to say thanks to the nice person who just let you in line? I have thought a lot about that, and here is my solution. Things used in this project Hardware components Arduino MKR1000 × 1 SparkFun Bluetooth Modem - BlueSMiRF Silver × 1 Adafruit 4-channel I2C-safe Bi-directional Logic Level Converter - BSS138 × 1 Flexible Adafruit DotStar Matrix 8x32 - 256 RGB LED Pixels × 1 Adafruit 4-pin JST SM Plug ...
Read more

›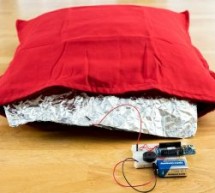 Open source is love, and so are hugs! Things used in this project Hardware components Arduino MKR IoT Bundle × 1 Software apps and online services Telegram Story We all know that being without that special person in your life can be difficult, but what if you could send love and affection remotely over the Internet by just hugging a pillow? Now, we can't really send hugs... but what we can send is a ...
Read more

›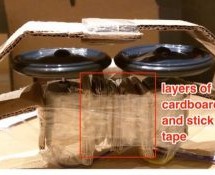 Entertain humans and pets alike with paper planes launched by your voice. Story In this project we will take a look at a combination of some old and new technologies to achieve something even older, entertainment. Maybe I won't have the timeline right but the technologies used in this projects are listed from the oldest to the newest below: Paper Planes Paper Plane Launcher Arduino Alexa Smart Home Skill Se ...
Read more

›
Secure OTA via Azure. Control via voice capable UWP app. Includes sample: room thermostat controlled via phone. Things used in this project Hardware components Arduino MKR1000 This is needed for every OTA projects. The components below are needed only for the use case / sample: the room thermostat. × 1 DHT11 Temperature & Humidity Sensor (4 pins) × 1 Relay (generic) × 1 Breadboard (generic) × 1 Software ...
Read more

›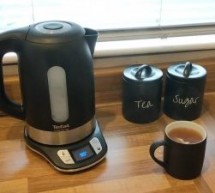 Make a smart kettle for under £60 using Alexa and Arduino. Things used in this project Hardware components Arduino MKR1000 × 1 SparkFun Logic Level Converter - Bi-Directional × 1 Tefal Temperature Control Kettle × 1 Software apps and online services Arduino IDE Amazon Alexa Alexa Skills Kit Amazon Web Services AWS Lambda Shiftr Story [embed]https://youtu.be/7uVDxhh5WL8[/embed] Introduction Why make two trip ...
Read more

›
A switching voltage regulator is one of my favorite circuits. In school, they were the first circuits I built where I understood how transistors worked. In fact, they were the first circuit I saw an inductor being useful! Switching regulators are incredibly efficient when designed properly. Of course, this detail about design is important. They are not as simple as a linear regulator, which is basically an ...
Read more

›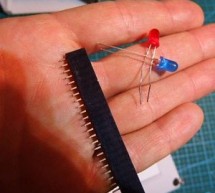 A really smart IoT socket. Switch ON/OFF your device by the smartphone using Cayenne Dashboard and Arduino MKR1000. Things used in this project Hardware components Arduino MKR1000 × 1 RobotGeek Relay × 1 9V 1A Switching Wall Power Supply × 1 Software apps and online services myDevices Cayenne Arduino IDE Arduino Web Editor Arduino Cloud Hand tools and fabrication machines Soldering iron (generic) Story I sa ...
Read more

›