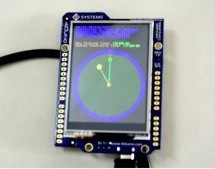 In this project, we will learn the basics of User Datagram Protocol (UDP). We will request and receive time from the NTP server using the above communication protocol. The 4Duino display is utilised to print the received time in both, digital and analogue clock format. Transfer of Data over Internet The 2 most common ways to transfer chunks of data (also known as packets) over the internet are Transmission ...
Read more

›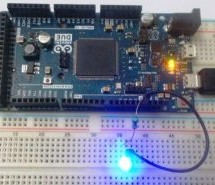 ARDUINO DUE is an ARM controller based board designed for electronic Engineers and Hobbyists. ARM architecture is very influential in modern electronics. We are using the ARM architecture based controllers everywhere. For example we are using ARM controllers in our mobiles, iPods and computers etc.  If someone wants to design industrial systems, it must be on ARM controllers. ARM controllers are very import ...
Read more

›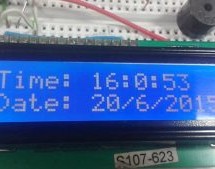 This Arduino based Real time clock is a digital clock to display real time using a RTC IC DS1307 which works on I2C protocol. Real time clock means it runs even after power failure. When power is reconnected, it displays the real time irespective to the time and duration it was in off state. In this project we have used a 16x2 LCD module to display the time in - (hour, minute, seconds, date, month and year) ...
Read more

›
This is the fourth synthesizer cable I've built, the first three being based on the ATtiny85. I have been looking into ARM chips but haven't gotten to grips with them just yet. Instead, I decided go back to the ATtiny2313, which has a quarter of the memories of the tiny85, but a hardware UART port and more pins. It's quite a simple idea really - generate square waves by toggling the digital outputs on many ...
Read more

›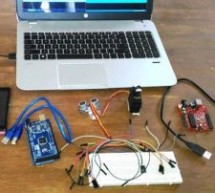 This is an interesting project in which we explore the power of an Arduino and Android to create a Surveillance device which uses Arduino and Ultra Sonic Sensor to broadcast the information to a mobile application (Android) using Bluetooth. Safety and Security has been our primary concern since ages. Installing a security camera that has night mode with tilt and pan option will burn a big hole on our pocket ...
Read more

›
Accelerating data rates, greater design complexity, standards requirements, and shorter cycle times put greater demand on design engineers to debug complex signal integrity issues as early as possible. Because today's serial data links operate at gigahertz transmission frequencies, a host of variables can affect the integrity of signals, including transmission-line effects, impedance mismatches, signal rout ...
Read more

›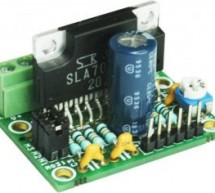 This tiny Unipolar stepper motor driver has been designed around SLA7078MPR IC from Sanken, It is unipolar stepper Motor driver can handle current up to 3 Amps, micro-stepping up to 1/16 steps. On-board Jumpers to set the Micro-stepping, Preset (Potentiometer) to set the current. The SLA7070MPR series motor driver ICs features unipolar drivers. The clock-in type input interface allows simplified control log ...
Read more

›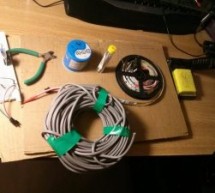 First Hello instructables. This is my first contact with : Instructables Arduino Programmable LED's So please don't trow rocks at me for noobish mistakes. Keeping that in mind I'm waiting to read your comments with grate interest and I'm open to any suggestion Features : big digits ( each digit is approximately the size of a A4 paper). slim in order to fit in a photo frame (a big one). auto dim the light de ...
Read more

›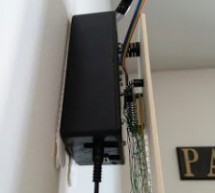 If you've ever rode the Link Light Rail in Seattle to the airport, you may have glanced out of the window while traveling through a tunnel and seen playing cards illuminated on the walls. These images are not made from two dimensional screens. Each display is just a row of lights that changes rapidly as the train drives by, giving the illusion of a two-dimensional picture. The University Street station also ...
Read more

›
REQUIREMENT: WiFi Access with SSID and password if necessary So this Lazy Old Geek (LOG) has a couple of clocks in my bedroom. One of them loses time when the power is lost. The other is semi smart and automatically adjusts for Daylight Savings Time. Unfortunately, it does this using the old standard so I have to re-set the time four times a year. Well, I'm LAZY so I decided to make my own Clock. At first I ...
Read more

›
Hey folks! After making an Arduino smartwatch just last week, I received many complaints,or tips, to use a RTC (real-time clock) module. That's because the Arduino timer is not very precise, it can lose a couple a minutes along a full work day. Luckly, I had one of those modules at my home, I decided to give it a try. However, I faced some challenges along the way, as I can show you here. This is my weekend ...
Read more

›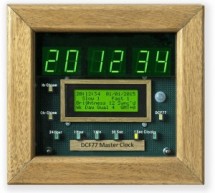 Arduino Master Wall Clock. Time displayed on large 1" (26mm) 7 segment displays with secondary 4x20 LCD information display. The clock can be used stand alone or provides the following pulses to drive slave clocks 1 sec alternating, 30 sec, 1 min , 1 hour, 24 hr, 15 min chime of quarter hours, hourly chime of hours. An Arduino 328 Microprocessor is used to decode and display time & date from the DCF77 " ...
Read more

›