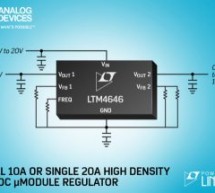 Designed for use in PCIe boards, communications infrastructure, cloud computing-based systems, medical, industrial, and test and measurement equipment, the LTM4646 is a dual 10A or single 20A output, step-down µModule PoL regulator from 5.0 or 12V input supply rails. It targets the PCB area constraints of densely populated system boards to power low voltage and high current devices such as FPGAs, ASICs, mic ...
Read more

›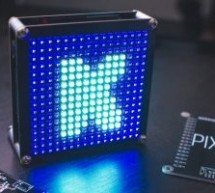 I am back again with my second Make/100 Project! After the first being a very large success and very fun, I decided to do another. This time I am bringing to you the PIXO Pixel! What is it? The PIXO Pixel is an open source RGB display that uses the very cool, APA102-2020 Addressable LED in a 16 x 16 array. These LEDs are very fast, bright, and tiny; only 2mm x 2mm!  Controlling the LED matrix is an ESP32 wh ...
Read more

›
Unipolar stepper motor driver can drive unipolar motor up to 3.5A and supply range 10 To 50V DC. The board has been designed using STK672-442AEN IC.  The STK672-442AN is a hybrid IC for use as a unipolar, 2-phase stepper motor driver with PWM current control and Micro-stepping. Features Supply Up to 50V DC Input Logic Supply 5V DC Input Load Current 3.5Amps Stepper Motor: 5 Wires, 6 Wires, 8 Wires (Unipolar ...
Read more

›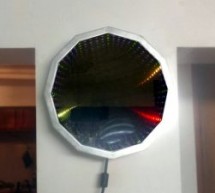 Have you made an infinity mirror yet? They're pretty much a rite of passage project at this point. But unlike that DIY power supply, most of them serve no function beyond looking cool (not that there's anything wrong with that). Might as well make it do something, right? [How Do You – DIY] has a built a few mirrors because he likes experimenting with the effects of different reflective surfaces in vari ...
Read more

›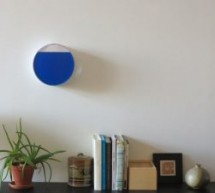 This is a tutorial for making the Tidal Clock. The clock shows the ebb and flow between high and low tide by a rising and falling water level. It consists of an airtight acrylic container that has a front visible chamber and a back hidden chamber. A volume rotates through the back chamber, displacing the water in the front and causing the water level to rise and fall. The rotation is controlled by an Arduin ...
Read more

›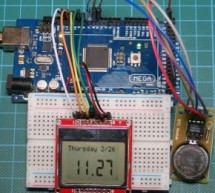 Introduction Hi guys, in one of our previous tutorials, we made a real time clock, using the DS3231 RTC Module and the 1602 LCD display module. For this tutorial, we will be building something similar using the DS1302 RTC module and the Nokia 5110 display module. Unlike the 1602 LCD module which was used in the previous tutorial, the Nokia 5110 LCD module has the ability of displaying customized graphics wh ...
Read more

›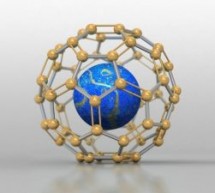 For Fridtjof Nansen, 13 April 1895 started well. Six days earlier, the Norwegian explorer had set a new record for the closest approach to the North Pole, and now he was moving quickly over unbroken sea ice toward Cape Fligely and home. But then came a sickening realization: In his eagerness to break camp, he had forgotten to wind the chronometers. He had lost track of precise time, and thus the ability to ...
Read more

›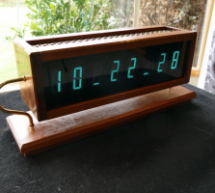 Time is probably our most important social construct. Our perception of passing time changes with everything we do, and when it comes down to it, time is all we really have. You can choose to use it wisely, or sit back and watch it go by. If you want to do both, build a clock like this one, and spectate in sleek, sophisticated style. [ChristineNZ]'s mid-century-meets-steampunk clock uses eight ILC1-1/8 ...
Read more

›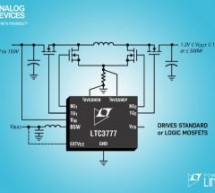 Analog Devices announces the Power by Linear™ LTC3777, a 150V high efficiency (up to 99%) 4-switch synchronous buck-boost DC/DC controller, which operates from input voltages above, below or equal to the regulated output voltage. Its 4.5V to 150V input voltage range operates from a high input voltage source or from an input that has high voltage surges, eliminating the need for external surge suppression de ...
Read more

›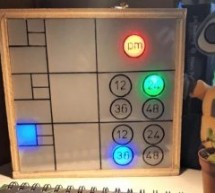 Makers and Arduino enthusiasts searching for a project to keep them busy this weekend may be interested in this awesome Arduino Fibonacci clock created by maker "TecnoProfesor". may look a little complicated to read the time but once you know how to read it the Fibonacci clock is a great talking piece. Check out the video below to see it in action. Fibonacci was an Italian mathematician and created the Fibo ...
Read more

›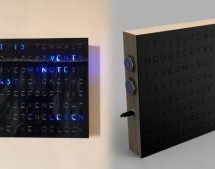 Word clocks are a cool way to tell the time. While they could have probably been built back in the 1960s with a bunch of relays and bulbs, they really only came into their own in the LED-everything era. [Vatsal Agarwal] built one of his own, showcasing his maker credentials. It's a build that relies on good woodworking practices from the ground up. Maple wood is used for the frame, cut and prepared on a mit ...
Read more

›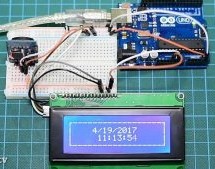 Introduction Sometimes it may be necessary to use a display while making a hardware project, but the size and the type of the display may vary according to the application. In a previous project, we used a 0.96″ I2C OLED display, and in this project we will have an I2C 20×4 character display. Project Parts This tutorial will describe how to use 20 x 4 LCD display with Arduino to print a real-time clock and ...
Read more

›