If you're like me, after I got my Arduino and performed a final programming on my first chip, I wanted to pull it off my Arduino Duemilanove and put it on my own circuit. This would also free up my Arduino for future projects. The problem was that I'm such an electronics newbie that I didn't know where to start. After reading through many web pages and forums, I was able to put together this Instructable. I ...
Read more

›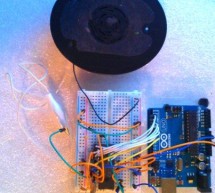 The GI SP0256 chip is an early 1980s bit of technology. It's a 5V (to 7V) NMOS chip which is compatible enough with the 5V TTL circuity common in that era. 5V TTL disappeared for a while, then came back with the Atmel _28-based Arduino boards, many of which run at 5V. The SP0256 chip contains a [crude] electronic model of the human voicebox, and the -AL2 variant comes with 59 English language phonemes built ...
Read more

›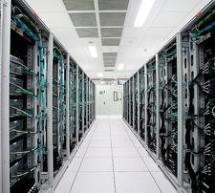 Ever wondered what the Bitcoin currency means to the electronics industry? Well, there is a Bitcoin electronics ecosystem, and it seems to be growing. An early developer of hardware systems for Bitcoin mining is US-based CoinTerra and it has recently expanded its business by acquiring Europe-based Bitcoin related software company Bits of Proof. Dubbed the 'virtual currency', Bitcoin is a software-based onli ...
Read more

›
Intersil have introduced a single chip just 9 x 6.5 mm which contains just about all the control features (including the output stages) needed to build a dual 0.8 to 5 V power supply with 3 A per channel output capability. The ISL8203M can also supply 6 A in current sharing operation. The ISL8203M is an integrated step-down power module optimized for generating low output voltages down to 0.8V.  The input s ...
Read more

›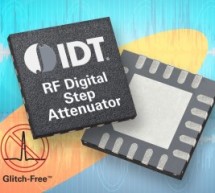 The F1950 Digital-Step-Attenuator featuring Glitch-Free™ technology improves system reliability and settling time.  It has an attenuation range of 31.75 dB with excellent accuracy and very low distortion. Features Glitch-Free™, < 0.6 dB transient overshoot 150 MHz to 4000 MHz frequency range Spurious Free Design 3V to 5V supply Attenuation Error < 0.3 dB @ 2 GHz Low Insertion Loss < 1.3 dB @ 2 GHz ...
Read more

›
General Description The HMCAD1512 is a versatile high performance low power analog-to-digital converter (ADC), utilizing time-interleaving to increase sampling rate. Integrated Cross Point Switches activate the input selected by the user. The device contains 2 ADCs that can be interleaved by the user to act as a single channel or two channels. In single channel mode, either of the two inputs can be selected ...
Read more

›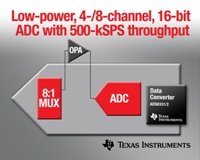 Description Using CMOS process technology and innovative circuit techniques, the ADS5294 is a low power 80MSPS 8-Channel ADC. Low power consumption, high SNR, low SFDR, and consistent overload recovery allow users to design high performance systems. The ADS5294 has a digital processing block that integrates several commonly used digital functions for improving system performance. It includes a digita ...
Read more

›
The 33813 is an engine control analog power IC intended for one cylinder motorcycle and other small engine control applications. The IC consists of five integrated low side drivers, two pre-drivers, a VRS (variable reluctance sensor) input circuit, a voltage pre-regulator using an external pass transistor, and two 5.0 volt internal regulators, one for the microcontroller (MCU) VCC supply and the other for u ...
Read more

›
The ADAU1966 is a high performance, single-chip DAC that provides sixteen digital-to-analog converters (DACs) with differential output using the Analog Devices, Inc. patented multi-bit sigma-delta (Σ-Δ) architecture. An SPI/I2C port is included, allowing a microcontroller to adjust volume and many other parameters. The ADAU1966 operates from 2.5 V digital and 3.3V or 5V analog supplies. A linear regulator i ...
Read more

›
Description DeepCover® embedded security solutions cloak sensitive data under multiple layers of advanced physical security to provide the most secure key storage possible. The DeepCover Security Manager (DS3660) is a security manager with 1024 bytes of SRAM for the secure storage of sensitive data and the physical tamper-sensing response functions required in cryptographic processors and data security equi ...
Read more

›
Description The MAX44007 ambient light sensor features an I²C digital output that is ideal for a number of portable applications such as smartphones, notebooks, and industrial sensors. At less than 1µA operating current, it is the lowest power ambient light sensor in the industry and features an ultra-wide 22-bit dynamic range from 0.025 lux to 104,448 lux. Low-light operation allows easy operation in dark ...
Read more

›
Description The ISLA118P50 is a low-power, high-performance, 500MSPS analog-to-digital converter designed with Intersil's proprietary FemtoCharge™ technology on a standard CMOS process. The ISLA118P50 is part of a pin-compatible portfolio of 8, 10 and 12-bit A/Ds. This device is an upgrade of the KAD551XP-50 product family and is pin similar. The device utilizes two time-interleaved 250MSPS unit A/Ds to ach ...
Read more

›