Description
DeepCover® embedded security solutions cloak sensitive data under multiple layers of advanced physical security to provide the most secure key storage possible.
The DeepCover Security Manager (DS3660) is a security manager with 1024 bytes of SRAM for the secure storage of sensitive data and the physical tamper-sensing response functions required in cryptographic processors and data security equipment. The low-voltage operation allows the host microprocessor interface and optional external memory to run at a low voltage (1.8V typical).
One of the DS3660's primary features is the on-chip nonimprinting memory, consisting of eight 128-byte banks incorporating a high-speed, direct-wired clearing function. The 1KB memory is constantly complemented in the background to prevent memory imprinting of data. The DS3660 architecture allows the user to clear selective banks of the memory based upon specified tamper events. In the event of a qualified tamper event, the desired bank(s) of memory are rapidly cleared and a negative bias can be applied to erase external memory.
The DS3660 includes a seconds counter, watchdog timer, CPU supervisor, nonvolatile (NV) SRAM controller, and on-chip temperature sensor. In the event of a primary power failure, an external battery source is automatically switched in to keep the memory, time, and tamper-detection circuitry active. Optionally, an internal 1.8V bias source can be selected to keep a low-voltage SRAM alive.
Key Features
Memory

1024-Byte Nonimprinting Memory with High-Speed Erase
64 Bytes General-Purpose RAM (Not Cleared)
External SRAM Control and Optional Tamper-Event Erasure
Segmented Tamper-Detection Memory Hierarchy with Programmable Tamper-Event Sources

Tamper

On-Chip Programmable Temperature Sensing with Proprietary ROC Detector
Two General-Purpose Tamper-Detect Logic Inputs
Four Uncommitted Tamper-Detect Comparator Inputs
Four Window Comparators with On-Chip Reference Voltage
Latching and Timestamping of Tamper Events
Crystal Oscillator Tamper Monitoring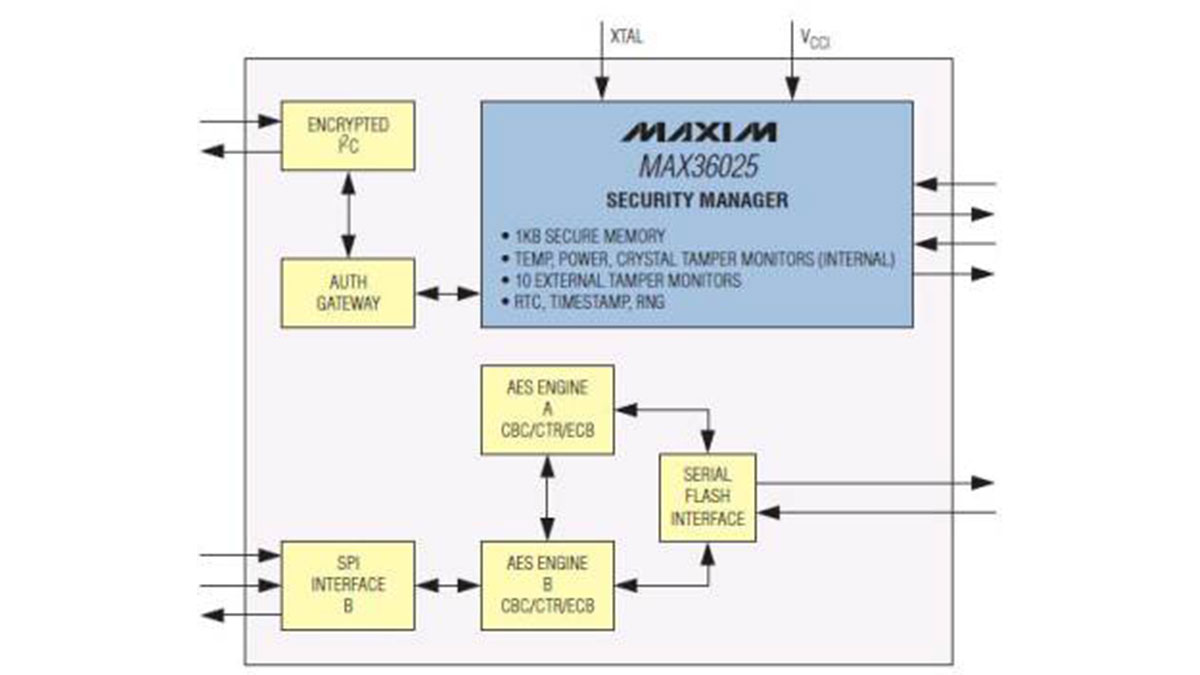 Applications/Uses
Access-Control Security Systems
ATMs
Cryptographic Processors
E-Commerce Servers
Gaming Systems
Network Routers and Switches
Network Storage Servers
PIN Pads
Point-of-Sale Terminals
Secure Communications
Set-Top Boxes
Smart Card Readers
Software-Defined Radios
Maxim Integrated Products has introduced a security manager for storing sensitive data on-chip.
The 1024 byte of on-chip nonimprinting memory consists of eight 128-byte banks, can be selectively cleared by end users based on user-specified tamper events.
The chip, the DS3660, has an internal 1.8V bias source to power low-voltage external SRAM that can be used to store less critical data, and it is configurable to operate with a low-voltage microprocessor for battery-operated devices.
It is designed to provide tamper detection regardless of the power source. The on-chip battery-backup controller constantly monitors the main power (VCC) and automatically switches to the battery (VBAT) when the main power is too low or not present at all.
Drawing only 4µA (typ) of battery current, the chip is designed to retain critical information and monitor tampers while on battery power.
For more read: Adds security to chips maxim