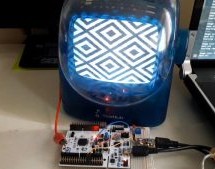 While most analog televisions come with composite video inputs on a yellow RCA jack, the feature is not universal. This problem was even more prevalent in the 1980s, and most home consoles got around the problem by instead feeding video to the television's tuner with an RF modulator. [Manzel Seet] had just such a television which used the PAL standard. Wanting to display images from a microcontroller, he pu ...
Read more

›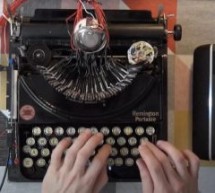 Maker William Sun Petrus has created an awesome drum machine using a 1920's Remington compact typewriter combined with a little Arduino hardware and programming. The processing power is provided by an Arduino Mega and software used includes Ableton, Loop Midi and Hairless Midi Serial. Check out the video below to learn more and see the unique drum machine in action. This is a remington portable typewriter, ...
Read more

›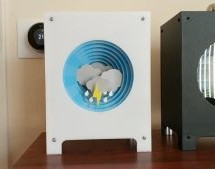 Mythological legend has it that Tempestas, the Roman goddess of storms and sudden weather, saved the consul Scipio when his fleet of ships got caught in a storm off of Corsica. In return, she demanded that a temple be dedicated to her. [SephenDeVos]' beautiful barometer, dubbed Tempestas II,  demands nothing of the viewer, but will likely command attention anyway because it looks so cool. If the weather is ...
Read more

›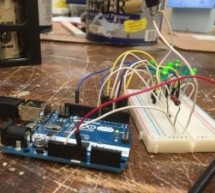 This instrcutable will show you how to hook up LEDs to show a face of a dice when a pushbutton is pressed. Step 1: Supplies For this project you will need to following: 11 long jumper wires 7 short jumper wires 7 LEDs 1 breadboard 1 Arduino Uno 1 USB cable for the Arduino 1 push button 1 resistor Step 2: Start With Assembling Your LEDs You will take your LEDs and place them in a H formation. LED1: pins 1 an ...
Read more

›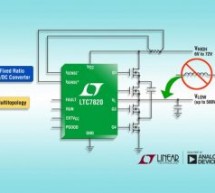 LTC7820 is, a high power fixed ratio charge pump DC/DC controller that eliminates the power inductor in a non-isolated intermediate bus converter, allowing up to a 50% reduction in circuit size and up to 4000 W/in³ power density. The 72V fixed-ratio DC/DC controller can deliver 500W. Non-isolated regulators and voltage level converters that employ energy storage in capacitors rather than inductors are well- ...
Read more

›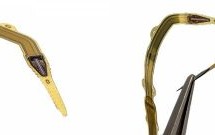 Imec, the world-leading research and innovation hub in nano-electronics and digital technology, announced last month its prototype implantable chip that aims to give patients more intuitive control over their arm prosthetics. The thin-silicon chip is said to be world's first for electrode density. Creating a closed-loop system for future-generation haptic prosthetics technology is the aim of researchers. Wh ...
Read more

›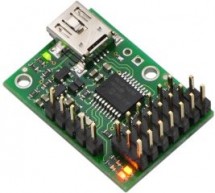 The Micro Maestro is the first of Pololu's second-generation USB servo controllers. The board supports three control methods — USB for direct connection to a PC, TTL serial for use with embedded systems, and internal scripting for self-contained, host controller-free applications — and channels that can be configured as servo outputs for use with radio control (RC) servos or electronic speed controls (ESCs) ...
Read more

›
It's wasn't so long ago that RC transmitters, at least ones worth owning, were expensive pieces of gear. Even more recently than that, the idea of an RC transmitter running an open source firmware would have been considered a pipe dream. Yet today buying cheap imported transmitters and flashing a community developed firmware (if it didn't come with it pre-installed to begin with) is common place. It's not m ...
Read more

›
The SLF3S-1300F liquid flow sensor is based on Sensirion's proven CMOSens® Technology and optimizes costs by simplifying the design without sacrificing the easy fluidic, electrical and mechanical connections. The straight and unobstructed flow channel has no moving parts; inert wetted materials provide outstanding chemical resistance and excellent media compatibility. In measuring flow rates up to 40 ml/min ...
Read more

›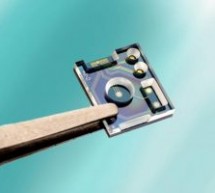 At last week's IEEE International Electron Devices Meeting (IEDM) in San Francisco (USA), imec, the world-leading research and innovation hub in nano-electronics and digital technology and Holst Centre debuted a miniaturized sensor that simultaneously determines pH and chloride (Cl-)levels in fluid. This innovation is a must have for accurate long-term measurement of ion concentrations in applications such ...
Read more

›
Description The small 2 Channel amplifier constructed around Sanyo's LA4445 IC delivers 5.5Watts +5.5 Watts at 4 ohm load, supply in 12V DC 2Amp, Input impedance 30K. Specifications Dual Channels output : 5.5W Minimum External Parts Very small pop noise at the time of power supply ON/OFF Good ripple rejections Small residual noise Built-in protectors 1. Thermal Protector 2. Overvoltage Surge Protector Stand ...
Read more

›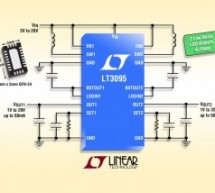 Features Generates Two Independent Low Noise Bias Supplies Boost Regulator: Wide Input Voltage Range: 3V to 20V Adjustable Switching Frequency: 450kHz to 2MHz Synchronizable to External Clock 950mA Power Switches Integrated Schottky Diodes Internal Frequency Compensation Linear Regulator: Wide Output Voltage Range: 1V to 20V SET Pin Reference Current: 50μA Low Noise: 4μVRMS (10Hz to 100kHz) High Frequency P ...
Read more

›