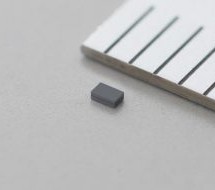 Measuring just 0.9×0.6×0.3mm (50 % smaller than a conventional 32.768 kHz crystal resonator), the WMRAG series 32.768 kHz MEMS resonator is the world's smallest, claims manufacturer Murata. Murata Manufacturing Co., Ltd. (Head Office: Nagaokakyo-shi, Kyoto; Chairman of the Board and President: Tsuneo Murata) has developed the world's smallest 32.768kHz MEMS resonator, which is expected to make a significant ...
Read more

›
The Arduino is the ultimate tool in the Maker's arsenal. You should be able to build your own! In the early days of the project, circa 2005, the design was all through-hole parts and communication was via a RS232 serial cable. The files are still available, so you can make your own, and I have, but not many computers have the older serial ports. The Arduino USB version followed ...
Read more

›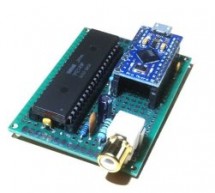 Relive the fun of early computer game music with an authentic 8-bit chiptune synthesizer, which you can control over MIDI from the comfort of any modern DAW software. This simple circuit uses an Arduino to drive an AY-3-8910 programmable sound generator chip (or one of its many clones) to recreate that 1980's sound. Unlike the many designs that need specialised software to edit music, this looks l ...
Read more

›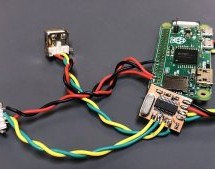 Going all the way hack to the heady days of Eee PC modding, hardware hackers have been on the hunt for small USB hubs that can easily be liberated from their enclosures and integrated into whatever project they happen to be working on. From time to time you see recommendations out there for makes and models which lend themselves to this sort of repurposing, but it's seemed more difficult than necessary to s ...
Read more

›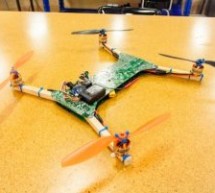 My university had a bunch of old server motherboards that were headed to the dumpster. I decided to see the feasibility of turning them into something useful! Go ahead and grab the attached pdf plans, print them out full size, and build your own! Step 1: Prepare the Motherboard Pop in your earbuds, turn up some tunes, and spend some quality time with your heatgun. If you have a sacrificial toaster oven big ...
Read more

›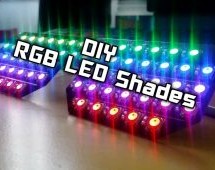 Today I'm going to teach you how you can build your own RGB LED Glasses very easily and cheapThis has always been one of my biggest dreams and it finally came true! A huge shout out to EasyEDA for the amazing PCB's and personal support! :) The parts you will need for this project are the following: PCB - http://tinyurl.com/zx6t96768 x WS2812 LED's - http://tinyurl.com/zdod8eh68 x 100nF 0 ...
Read more

›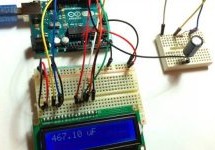 With all the different ways capacitors are labeled, figuring out the values of your capacitors can be challenging. Especially if you don't have a digital multi-meter to test them. In this tutorial, I'll show you how to build three different capacitance meters using an Arduino and a couple resistors. After finishing this project, you'll be able to measure all of your capacitors and label them for future refe ...
Read more

›
First steps in circuit design for the budding electrical engineer. San Francisco, CA (October 25, 2018)—A Beginner's Guide to Circuits ($17.95, 80 pp., October 2018) introduces beginners to the magic of electronics. With easy-to-follow instructions, it's sure to be the perfect book for young readers who want to understand the everyday electronics around them and gain the skills and confidence needed to vent ...
Read more

›
My MQTT network at home moves up and down a lot of messages: sensor values, triggers, notifications, device statuses,… I use Node-RED to forward the important ones to PushOver and some others to a Blynk application. But I also happen to have an LED display at home and that means FUN. LED displays are cool. Your team's score, your number in the IRS queue, the estimated arrival time for your next commute,… No ...
Read more

›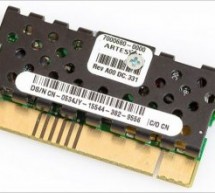 A recent ebay fishing expedition yielded an interesting little part for the very reasonable sum of about five pounds. It's a voltage regulator module from a Dell PowerEdge 6650 Xeon server. I originally bought this because I had the idea of salvaging parts from it to use in another project. These are high quality modules that will have very good inductors and sometimes an array of high value ceramic capacit ...
Read more

›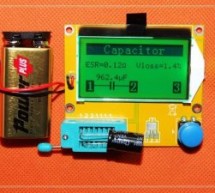 When I started to deal with Chinese electronics suppliers from websites like Alibaba, Aliexpress and Taobao, I discovered that there are huge amount of undiscovered tools from the Chinese market. They are not easily discovered, maybe due to the Chinese language barrier, especially when we deal with a Chinese website like Taobao or maybe because most of us are used to deal with known electronics distributors ...
Read more

›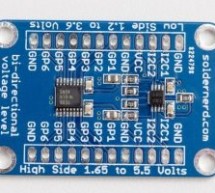 While most of my microcontroller designs run on 3.3 volts there is still the ocasional 5 volt design. Or I do something with an Arduino. So the need may arise to interface between logic working at different voltage levels. There are several ways of doing this, depending on your needs. Things are relatively simple as long as you know in advance which side is transmitting and which side is receiving. It gets ...
Read more

›