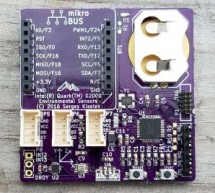 Introduction This is a fairly small (51 x 51 mm) board, equipped with a low power Intel Quark D2000 microcontroller, and several sensors (accelerator, temperature, humidity, atmospheric pressure), as well as a mikroBUS compatible header and a Grove compatible connectors, that can be used to connect additional sensors, memory, or radio modules. The board can be used to monitor the environment conditions, and ...
Read more

›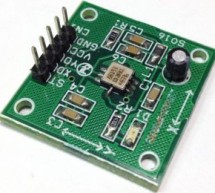 The ADXL203 Module  is high precision, low power, complete dual-axis accelerometers with signal conditioned voltage outputs, all on a single, monolithic IC. The ADXL203 measure acceleration with a full-scale range of ±1.7 g, ±5 g, or ±18 g. The ADXL203 can measure both dynamic acceleration (for example, vibration) and static acceleration (for example, gravity).The typical noise floor is 110 μg/√Hz, allowing ...
Read more

›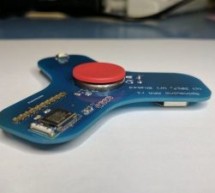 Description A smart, programable Fidget Spinner with the following features: * JavaScript programmable * 10-Pixel RGB PoV display (using APA102 LEDs) * Spin count / speed detection using a magnetic latch * Using Nordic Semiconductor nRF52832 chip * Bluetooth Low Energy (BLE) communication with smart phone / computer for controlling the display, reading the spin count and programming * Over-the-air firmware ...
Read more

›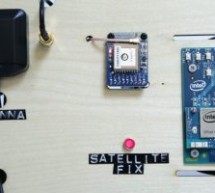 https://youtu.be/_Qog6ofGD5Y Once the purview of strictly military operations, GPS has become a regular part of modern living and in relatively short time! Who wouldn't want want to know when and where they are anywhere on the planet? It's a science fiction dream brought into reality, one now so woven into our lives it seems almost trivial. The demand for precise positional data built into planes, ships, ca ...
Read more

›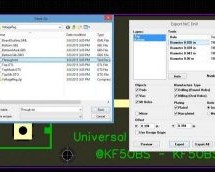 DipTrace is a sophisticated schematic and PCB layout software. I had it installed on my computer for over a year but have never really used it. Since I needed a super simple PCB for some 78XX / 79XX type linear regulators, I decided to use this opportunity for my first steps with DipTrace. DipTrace offers different prices for different packages [1]. The cheapest version, DipTrace Starter (300 pins, 2 signal ...
Read more

›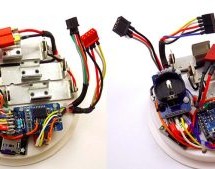 Reading the temperature of your environment is pretty easy right? A quick search suggests the utterly ubiquitous DHT11, which speaks a well documented protocol and has libraries for every conceivable microcontroller and platform. Plug that into your Arduino and boom, temperature (and humidity!) readings. But the simple solution doesn't hit every need, sometimes things need to get more esoteric. For years we ...
Read more

›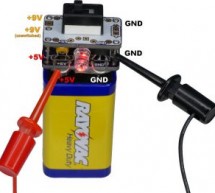 I have a $500 Rigol DP832 programmable triple-output power supply sitting on my bench, yet I built a 5V regulator to sit atop a 9V battery for some reason. Perhaps it's more portable, or cheap enough to toss in with the rest of the project it is powering, or maybe the bench power supply is just overkill. Or maybe, just maybe, I saw other people making them and I thought it would be cool to build myself. Two ...
Read more

›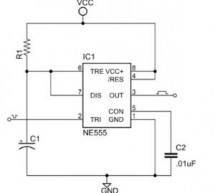 The 555 timer was introduced over 40 years ago. Due to its relative simplicity, ease of use and low cost it has been used in literally thousands of applications and is still widely available. Here we describe how to configure a standard 555 IC to perform two of its most common functions - as a timer in monostable mode and as a square wave oscillator in astable mode. 555 Signals and Pinout (8 pin DIP) Figure ...
Read more

›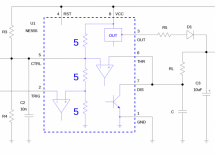 If you have a load with a variable or poorly specified resistance and want to regulate the power applied to it (a heater for example), merely controlling the voltage or current will not work, as in both cases the power P = I2R = V2/R depends on R. Instead, let us generate pulses with constant energy Epulse, independent of the resistance of the load RL. Then by changing the frequency f of the pulses we can c ...
Read more

›
In numerous RF synthesizer chips lies an inverter with input and output pins for making a reference crystal oscillator clock. I built some discrete chip inverter xtal oscillators with 74HC series logic gates to better examine them. You'll quickly recognize the oft-used Pierce oscillator topology with 1 trimmer capacitor to tweak the fundamental frequency which might vary from factors like crystal aging and ...
Read more

›
Reverse engineering the popular 555 timer chip (CMOS version) This article explains how the LMC555 timer chip works, from the tiny transistors and resistors on the silicon chip, to the functional units such as comparators and current mirrors that make it work. The popular 555 timer integrated circuit is said to be the world's best-selling integrated circuit with billions sold since it was designed in 1970 b ...
Read more

›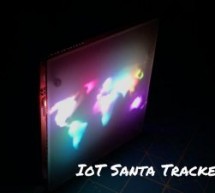 Use MKR1000 to show the Santa location in real-time on a colorful world map made of neopixels. Things used in this project Hardware components Arduino MKR1000 × 1 Raspberry Pi 3 Model B × 1 FR-1 Printed Circuit Board Blanks × 2 Translucent Colored Cast Acrylic (Sign Lighting White 40%) × 1 Neopixel WS2812B × 30 Micro USB female connector × 1 SMD 10uF Capacitor × 30 SMD 1000uF Capacitor × 1 M3 Nylon screws, ...
Read more

›