The STTS22H is an ultra-low-power, high accuracy, digital temperature sensor offering high performance over the entire operating temperature range.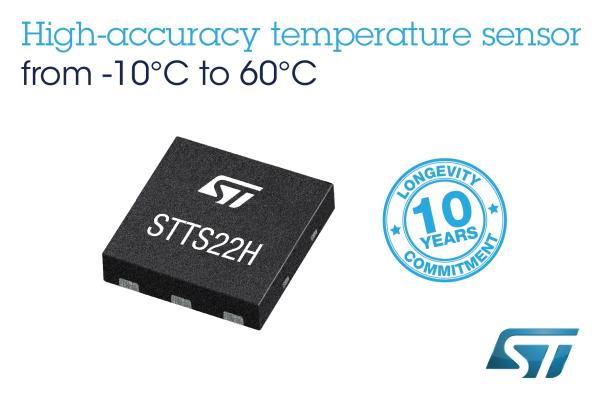 The STTS22H is a band gap temperature sensor coupled with an A/D converter, signal processing logic and an I²C/SMBus 3.0 interface all in a single ASIC.
This sensor is housed in a small 2 x 2 x 0.50 mm 6-lead UDFN package with exposed pad down for a better temperature match with the surrounding environment.
The STTS22H is factory calibrated and requires no additional calibration efforts on the customer side.
Features
Key features

Integrated high-accuracy temperature sensor
Factory calibrated
One-shot mode for power saving

Electrical specifications

Supply voltage: 1.5 to 3.6 V
I²C, SMBus 3.0 with ALERT (ARA) support
Programmable thresholds with interrupt pin
Supports up to 1 MHz serial clock
Up to 2 I²C/SMBus slave addresses
Ultra-low current: 1.75 µA in one-shot mode

Sensing specifications

Operating temperature -40 °C to +125 °C
Temperature accuracy (max.): ± 0.5 °C (-10 °C to +60 °C)
16-bit temperature data output
Read more: STTS22H – LOW-VOLTAGE, ULTRA-LOW-POWER, 0.5 °C ACCURACY I2C/SMBUS 3.0 TEMPERATURE SENSOR