After its successful entry into the 3.5-inch SBC market in the middle of last year, congatec is now introducing a new carrier board in this standardized footprint, which impresses with a socket for Arm based SMARC modules. Its I/Os are optimized for use with congatec's entire NXP i.MX8 module portfolio and it comes in 12 different processor configurations. Considering that the ARM processor world is traditionally characterized by proprietary designs, this 3.5-inch board design is a step further towards commercial-off-the-shelf (COTS) available standard boards and systems, offering fastest time to market. OEMs can implement them in their system solutions without any hardware development effort, using the large ecosystems of standard form factors. Rapid customization of I/Os is another benefit of such a modular design and most suitable for any small or medium sized project.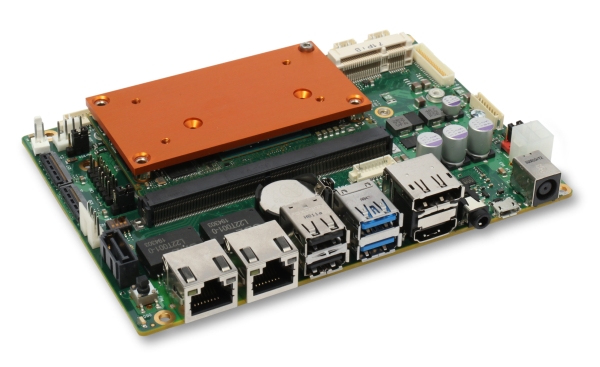 Our new modular 3.5-inch carrier board makes Arm designs also increasingly attractive for small industrial lot sizes, which until now have been dominated by x86 technology due to a lack of suitable ARM products. And since customer-specific designs can be implemented faster and more cost-effectively with modular boards, this COTS platform is also an ideal basis for custom designs of NXP i.MX8-based systems," said Martin Danzer, Director Product Management at congatec.
The new conga-SMC1 3.5-inch board not only features a SMARC socket for scalable processor performance, but is also optimized for MIPI cameras, which can now be connected directly and without any additional hardware. Thanks to two MIPI-CSI 2.0 connectors, it is even possible to develop systems that provide three-dimensional vision and can therefore also be used for situational awareness in autonomous vehicles. Combined with processor-integrated support for artificial intelligence and neural networks, this COTS platform offers everything developers need for smart vision systems. Comprehensive software support with precompiled binaries completes the new COTS offering.
Read more: SMARC MODULES MAKE NEW 3.5-INCH BOARDS SCALABLE