ROHM Semiconductor Ultra Compact MOSFETs & Bipolar Transistors have the smallest transistor package on the market which is optimized for thin, compact portable devices. The VML0806 case type measures just 0.8mm×0.6mm, with a height of only 0.36mm. As portable devices, such as smartphones and digital cameras get smaller and more sophisticated, thinner, more compact components are required. Until now, problems related to internal element miniaturization, bonding stability, package process accuracy, and surface mount technology limit the smallest conventional transistors to the 1006 size (1.0mm×0.6mm, t=0.37mm). ROHM was able to overcome these challenges by utilizing a smaller element and high-precision package process technology, resulting in an unprecedentedly compact form factor.
Features
    Industry-small size minimizes mounting area
    Compared to the smallest conventional small-signal transistor
    available (1212 size: 1.2mm×1.2mm, t=0.50mm), mounting area is  reduced 67% and thickness 28%
    Bottom-terminal design supports high-density mounting
    Reduced MOSFET ON resistance
    Low ON resistance (2.6Ω)is enabled in an ultra-compact   form     factor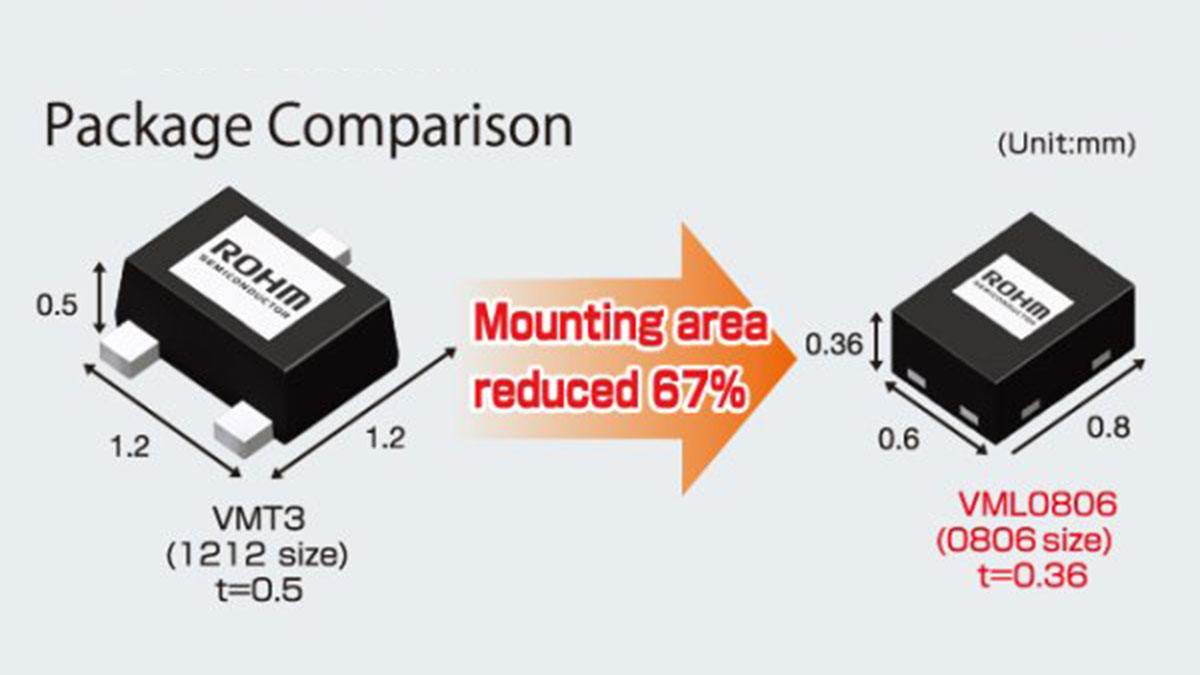 Rohm Semiconductor says it has developed the smallest transistor package on the market. The VML0806 measures just 0.8mm x 0.6mm, with a height of only 0.36mm.
With current miniaturisation, bonding stability, package process accuracy, and surface mount technology, the smallest conventional transistors are the 1006 size (1.0mm x 0.6mm x 0.37mm).
Rohm says it has overcome these challenges by using a smaller element and high-precision package process technology.
Rohm will initially offer this new package for small-signal mosfets.
Future implementations will include bipolar and digital transistors.
For more read: Rohm claims to have smallest transistor package