10GSa/sec sampling and 500Mpts memory depth makes these 600MHz/1GHz/2GHz  4 channel oscilloscopes stand out from the crowd.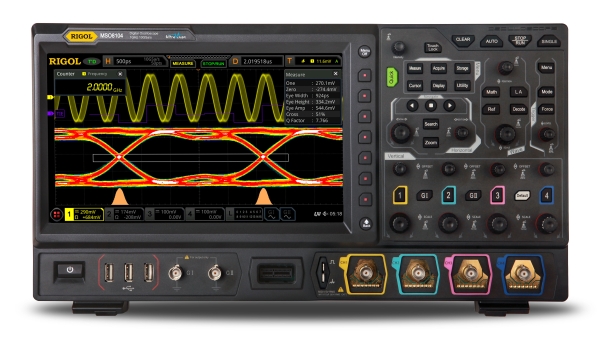 Saelig Company, Inc. has introduced the new Rigol Technologies MSO8000 Series of digital oscilloscopes, which combine best in class sampling (10GSa/sec) and memory depth (500Mpts) with a modern, flexible user interface enabled by Rigol's new UltraVision II architecture and innovative Phoenix chipset. Three models are available with input bandwidths from 600 MHz to 2GHz, each with 4 analog channels. The series is MSO ready: an optional 16-channel logic analyzer interface is provided to provide digital debug capabilities with the addition of 16 channel probes and software.
The advanced MSO8000 Series features a 10.1" 1024 x 600 capacitive multi-touch color LCD screen with 256-level intensity grading and a waveform refresh rate of up to 600,000wfm/sec. The enhanced FFT capability offers real-time spectrum analysis of up to 1Mpts of waveform data. The MSO8000 Series user interface provides five distinct ways to interact with the instrument: LCD Touch, traditional button and knob, mouse/monitor, PC control, and remote web operation. A two-channel 25MHz arbitrary waveform generator is also available.
The MSO8000 series utilizes Rigol's proprietary Phoenix chipset, which allows sampling at a remarkable 10GSa/s, and integrates all of the front-end analog processing.  All three models in the scope series provide non-stop recording and playback for a maximum of 450,000 frames of real-time waveforms using a segmented storage technique. Trigger conditions can be set to make a selective choice in capturing and saving the signals of interest.
With a total of seven unique integrated instruments (digital oscilloscope, 16-channel logic analyzer, spectrum analyzer, optional arbitrary waveform generator, digital voltmeter, 6-digit frequency counter and totalizer, and optional protocol analyzer, the MSO8000 Series allows customers to quickly identify and resolve complex design and debug challenges. The optional Protocol Analyzer supports RS232/UART, I2C, SPI, CAN, LIN, I2S, FlexRay, and MIL-STD-1553 serial bus. The protocol trigger and decoding operate on both the analog and the digital channels: RS232/UART, I2C, and SPI protocols. The Jitter firmware option supports real-time eye diagram and jitter analysis.
The MSO8000 series is field-upgradeable to higher bandwidths and is equipped with hardware pass/fail test function in the standard configuration, which can be useful for long length signal monitoring during design, and production test.  Setting the test mask on a known "standard" waveform allows an automatic comparison with the signal under test to show a successful or failed test.
Read more: RIGOL MSO8000 2GHZ 4-CHANNEL DIGITAL OSCILLOSCOPE SERIES