This is the third part of our BaW-Bot (Bells-and-Whistles Bot) build – 5 separate instructables that look into different Arduino-related technologies, combining to create a Bot with all the bells-and-whistles. Part 1: Build an Arduino on a Board Part 2: Build the motor-controller & body Part 3: Adding Sight and Touch Part 4: Blinging up the BaW-Bot Part 5: Taking it to the Next Level In this instructabl ...
Read more

›
Hello all! In this Instructable I'll be showing you how to make a robot similar to the "Mobile Arduino Experimental Platform" (MAEP) that I made. It is equipped with two motors that can steer the robot and the ability to see obstacles in front of it with a PING))) ultrasonic sensor. With the attached breadboard, you can do more electronics experiments, fool around with different sensors, etc. This project c ...
Read more

›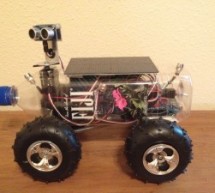 Fijibot is an autonomous, self-charging photovore. I built him using a 1.5 liter Fiji Water bottle, an Arduino Uno, 6v solar panel (plus various other parts) from Radio Shack, an Arduino Proto Shield (plus various other parts) from Adafruit, and the wheels and steering arrangement from an RC car. I decided to use a Fiji Water bottle as the robot's exoskeleton because Fiji Water is an environmentally conscio ...
Read more

›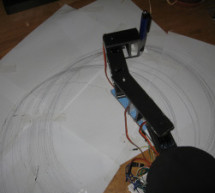 I have constructed a basic Arduino robot arm using 3 servos that cost me £15 in total plus a couple of hours in time to build and it's very simple that I think anyone can replicate and build this. I already had the Arduino Duemilanove ATMEGA328, some foamboard, tools and glue. The robot arm has 3 joints and moves in the X and Y dimensions – not the Z (although I will build this in subsequent versions). I've ...
Read more

›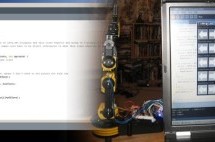 So the arm is wired into Arduino as per the previous post, Arduino: Modifying a Robot Arm and hopefully this has worked. In this next part I alter the Arduino sketch slightly and write the first Processing sketch to test control of the arm – video at the bottom. To control the robot arm we'll be sending a byte value over the serial port and then reading that in the Arduino code. Depending upon the value sen ...
Read more

›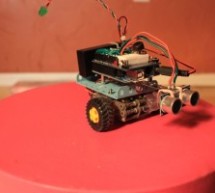 What is Clusterbot?  He is a small, affordable, autonomous Arduino-powered robot.  He can move, see, avoid obstacles, and makes a melodic chirping sound sometimes. Clusterbot was my first Arduino project, and I think he makes a great project for a beginner.  While building Clusterbot you will learn how to use motor controllers, ultrasonic rangefinders and how to program an elementary robotic platform.  The ...
Read more

›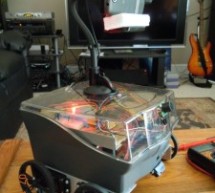 I started with an idea of what I wanted to do from the beginning but one attempt after another I finally got to where I am now. This robot can be remotely controlled from anywhere in the world and driven around the house. I can see through it's eyes. Here is a brief run down. I'll get into more later. *I have taken a 3.5 floppy disk case as a body and added 4 servo's converted to continuous operation for th ...
Read more

›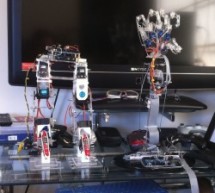 This instructable is not complete, I will post code soon The Arm: This instructable shows the process of building a robotic arm using servos, Arduino microprocessor, a gyroscope and multiple bend sensors. The user wears a glove containing the gyroscope and bend sensors which translate the movement of the users hand into motion of the  servos , in turn rotating the wrist and hand of the robotic arm. The fore ...
Read more

›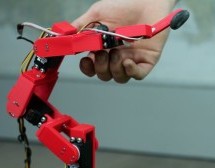 So you saw our video and you've fallen in love with Fixbot, have you? That's okay, it's understandable. We've fallen in love with it too. We have some great news! You can build your own Fixbot too, provided that you're okay with getting your hands dirty and that you have access to a Makerbot / RepRap / Ultimaker / 3D printer. You don't need to be a code wizard or a da Vinci descendant to get through this in ...
Read more

›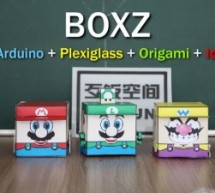 BOXZ is is an open source robot platform for interactive entertainment! We connected Arduino,Plexiglass(or cardboard) Origami and your idea together, so we can easily and quickly build a remote robot by ourself! You can assembled it like LEGO! We can use it to playing football game, racing, fighting or some other interesting things! Follow the step, I will show you how to build a BOXZ Base Here are the draw ...
Read more

›
It all started as a weekend project with my kids and soon enough I got sucked into a 4 month project with their school ! The idea was to get a small group of kids aged 6 to 9 to participate to a robotics contest (http://www.eurobot.org/eng/index.php). It was a fun journey and they did really well as they went all the way to the European finals (and ranked 19th) with their hacked vacuum cleaner. I delivered ...
Read more

›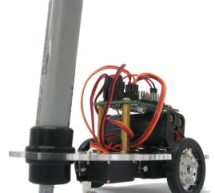 Doodle Bot is a very simple beginners robot that can write messages using white board markers, jumbo chalk or crayons. The kit comes with all parts including an Arduino compatible controller and a screwdriver. You will need to supply 4x AAA batteries and a suitable USB cable to program the robot. A large, full colour manual is included to make assembly easy. The manual can be downloaded from here: https://s ...
Read more

›