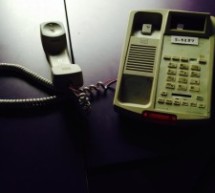 Unfortunately, due to my need to reclaim my arduino and breadboards, we don't have photographic documentation of our circuit. However, the structure of it was rather self-evident. Although we arranged the circuit in a such a way that we could program other functions, but we ultimately opted to keep the programming to a minimum to enable more of the focus to be placed upon the interaction with the phone, as ...
Read more

›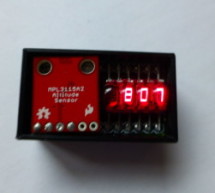 Please vote for this Instructable if you think it deserves it! Thanks! The Ultimate Altimeter is a super-compact, Arduino controlled altimeter capable of measuring the altitude with an accuracy of 0.3 meters, and saving the highest and lowest values it has measured. It is powered by a 40 mAh Lithium Polymer battery, uses a tiny LCD Bubble Display, and measures altitude with a MPL3115A2 Altitude Sensor. It's ...
Read more

›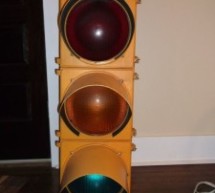 I always wanted an old traffic signal and finally got one recently.  However, it was very simply wired so that all the lights were fixed on.  What fun is that?  I also wanted to try out an Arduino controller and thought this would be a nice simple project to incorporate it into. This Instructable will show you how to wire up an old traffic signal with an Arduino controller to function like a real traffic li ...
Read more

›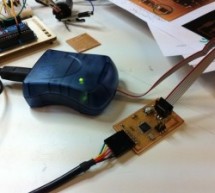 [assigment] Add an output device to a microcontroller board and program it to do something. Class syllabus:: http://academy.cba.mit.edu/classes/output_devices/index.html [what i learned /am learning] _ Relearned Arduino installation. _ Work with DC motors and H-Bridge IC with Arduino; and its general concepts. _ About the various Fab versions of Arduino and their features and differences: hello.arduino, fab ...
Read more

›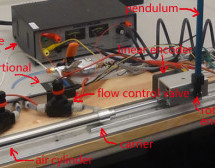 Construction Mechanical structure Compressed air comes from air compressor and goes in the proportional valve. Coming out from the proportional valve, there are two branches of air flow (one is compressor air, the other one is exhausted air) which connect to the air cylinder (pneumatic actuator). The pneumatic actuator connects to a cart (the aluminum box) where the pendulum is attached, and underneath the ...
Read more

›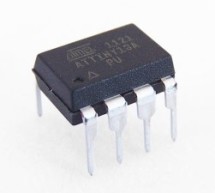 So there I was, browsing eBay, looking for some cheap deals on Atmel chips when i came across a pair of ATTiny13 chips for £2.50. I just had to have them! After all, how hard can it be? I needed a small chip to read servo signals from a hobby RC Receiver and control a laser output. Once they arrived it dawned on me that I actually had no idea how to program these little chips. Dom and I spent hours trying v ...
Read more

›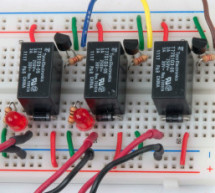 Overview of Wiring for the Salinity Sensor Other pages describing fish tank wiring: Connect electrical power to the pump and the breadboard Connect the salinity sensor to the breadboard and Arduino Connect the solenoids to the cascade control circuit (this page) Return to the main page for the fish tank wiring. Schematic The following schematic shows the circuit for supplying power to one of the sole ...
Read more

›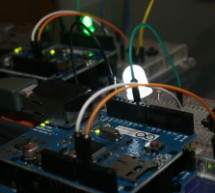 This instructable shows the principles involved in making devices to control home automation over the internet. We're going to construct a device (or several of them), that talk to each other over the internet to control lights, motors for curtains/blinds, power sockets etc. In contrast to devices controlled from a web browser or phone, these are designed to be simple, Arduino based devices that are capable ...
Read more

›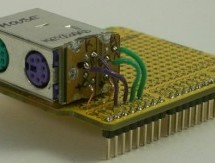 This example illustrates the use of the Mouse and keyboard libraries together. Five momentary switches act as directional buttons for your cursor. When a button is pressed, the cursor on your screen will move, and a keypress will be sent to the computer. Once you have the Leonardo programmed and wired up, open up your favorite text editor to see the results. NB: When you use these libraries, the Arduino tak ...
Read more

›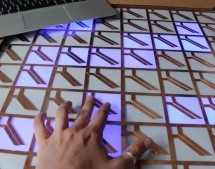 Objective: build a monome - a complex electronic music instrument - using easy-to-learn, inexpensive components and a process that's so easy a kid could do it. Gist: This touchscreen music instrument is essentially 4 parts: MaKey MaKey (or Arduino) Neopixels copper tape cardboard Sound is produced in either Scratch (visual programming language for kids) or Processing (visual programming language for artists ...
Read more

›
The Arduino Wireless shield allows your Arduino board to communicate wirelessly using Zigbee. This documentation describes the use of the shield with the XBee 802.15.4 module (sometimes called "Series 1" to distinguish them from the Series 2 modules, although "Series 1" doesn't appear in the official name or product description). A Simple Example You should be able to get two Arduino boards with Wireless sh ...
Read more

›
So I was a bit bored this weekend (actually I wrote this some months ago) and since I had ordered a bunch of Attiny85 chips the week after I decided to make a quite random project with them. This is a decision box, it takes decisions for you by showing a green or a red light (it can also show orange if we programmed it to combine both colors). It's made from wood and it has an aluminum plate to cover it all ...
Read more

›