Digispark is an ATtiny85 based microcontroller development board come with USB interface. Coding is similar to Arduino, and it use the familiar Arduino IDE for development. Digispark is copyrighted by Digistump LLC (digistump.com) and the full license is here: http://digistump.com/wiki/digispark/policy Specification: Support for the Arduino IDE 1.0+ (OSX/Win/Linux) Power via USB or External Source - 5v or 7 ...
Read more

›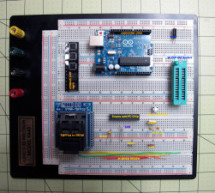 Parts required (Hardware) Arduino Uno Board (1) TQFP 32 to DIP 28 Adapter (1) Link Atmega TQFP 32 pin chip (1) Atmega DIP 28 pin chip (1) 10K resistor (1) 16MHz crystal (1) 18pf - 22pf capacitor (2) Tact Switch (1) Jumper wires (few) LED (1) 560 Ohm resistor (1) 10uF electrolytic cap (optional) Breadboard (1) Arduino Pins (2x6 pins, 2x8 pin socket) ZIF socket 28 pin (1) Software pre-requisites : Arduino sof ...
Read more

›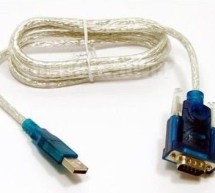 LOG: Made a correction/modification Step 3 and added a picture step 5. So many Arduino users have RBBBs(Really Bare Bones Board (Arduino))  or Anarduinos or Boarduinos that could use a USB interface to program and power them but don't want to spend $15-20 for a USB BUB or FTDI cable. This Lazy Old Geek is one of them. Theory: Most Arduino clones are programmed with a PC using a USB port. Theoretically, they ...
Read more

›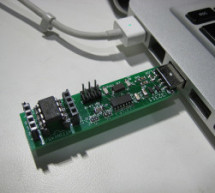 This tutorial shows you how to program an ATtiny45, ATtiny85, ATtiny44 or ATtiny84 microcontroller using the Arduino software. These are small, cheap ($2-3) microcontrollers that are convenient for running simple programs. The ATtiny45 and ATtiny85 have eight legs and are almost identical, except that the ATtiny85 has twice the memory of the ATtiny45 and can therefore hold more complex programs. The ATtiny4 ...
Read more

›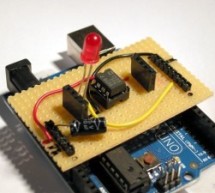 This instructable (entered in the Arduino Challenge contest - you can vote for it above) shows how to make a stripboard Arduino shield for programming either ATtiny45 or ATtiny85 microcontrollers with an Arduino, as per these tutorials from the High-Low Tech group at MIT: Arduino board as ATtiny programmer Programming an ATtiny w/ Arduino 1.0 The top link shows a breadboard arrangement for the programming s ...
Read more

›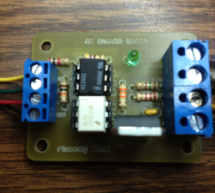 Green wire is zero_cross signal, goes to Arduino digital pin 2 in. Yellow wire is light dimming signal, comes from Arduino digital pin 11. The LED on board should dim or fade along with the AC light source. Fading will not work until AC power is connected, it depends on the zero-cross info from the H11AA1 chip. Code example with slow on/off fade: example with potentiometer control:   Diagram Click for full- ...
Read more

›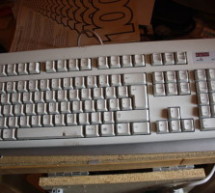 The Arduino is perhaps the coolest thing on earth. There are many types, the Uno, the Mega, the Pro, the Pro Mini, etc. etc. But one thing that often can be a problem is that you only have a limited number of inputs and outputs. There are many solutions for that, ranging from multiplexers to port expanders. But one thing that gives you up to 171 extra inputs is to use an old keyboard. And that is that this ...
Read more

›
This project will add tweeting capabilities to the GE 45142 Choice-Alert Wireless Control Center Alarm system. The alarm system allows you to connect up to 16 different sensors across 4 zones and with the addition of the Arduino powered AlarmingTweet you can enable it to keep you informed of it's status anytime anywhere. Originally I was thinking about building a motion detecting sensor system from scratch ...
Read more

›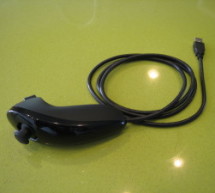 This instructable will describe how to convert a Nintendo Wii Nunchuck controller into a USB 2-button mouse using a Teensy USB.  The Teensy USB is a very user-friendly development board that can be programmed in an Arduino environment. The Teensy USB development board and necessary software are available at www.pjrc.com Check out the final product in action! <br /> http://www.youtube.com/watch ...
Read more

›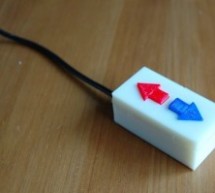 Not too long ago I saw the "Awesome Button" video on the Make Magazine podcast. In the video Matt Richardson shows how you can take a Teensy development board and turn it into a simple USB keyboard. In his example everytime a button is pressed a synonym for the word "awesome" is sent to the computer. While this is a pretty neat project the idea of creating a simplified keyboard out of a few buttons is what ...
Read more

›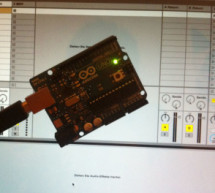 While building an Arduino Uno based Midi-Controller for Ableton Live, I came across the HIDUINO project ( http://code.google.com/p/hiduino/ ). It allows you to turn your Arduino Uno (or any other device using an AVR-USB chipset like the 8u2) into a driverless HID/Midi device. It's much more comfortable than using a software based serial to midi converter which has to run in the background all time. The only ...
Read more

›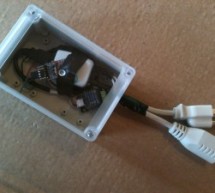 This instructable will detail how to make a switch that uses an arduino to sample light. When the light sample reaches a threshold it will trigger a relay that can be used to turn on/off a small appliance (light, radio, fan, etc...) The parts for this instructable can be ordered as a kit: Jameco Kit http://www.jameco.com/webapp/wcs/stores/servlet/Product_10001_10001_2209967_-1 Step 1: Review relay and prep ...
Read more

›