PandwaRF, A Portable Radio Analysis Tool
PandwaRF, is a portable low-power RF device that captures, analyses and re-transmits RF signals via an Android device or a Linux PC. It uses Bluetooth (BLE) or USB connection to transmit data in a simple and fast way, comes in the form of a controllable housing from a smartphone or a computer.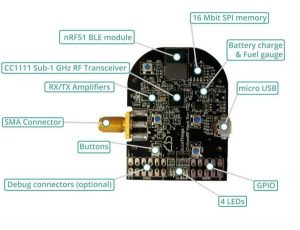 This pocket-size device operates at sub-1 GHz range, and it replaced the 'standard SDR Grind' of capturing, demodulating, analyzing, modifying and replaying by hand with a simple powerful interface.
The PandwaRF consists of a capable hardware device, tailored for beginners and advanced users, with an application that runs either on an Android device or on a PC. The Android interface provides full functionality to control and customize the PandwaRF easily using JavaScript.
Technical details of the PandwaRF:
Bluetooth Smart Module ISP130301, based on nRF51
CC1111 Low-Power SoC with Sub-1 GHz RF Transceiver
Multi frequencies (from 300 MHz to 928 MHz)
Multi modulation (ASK/OOK/MSK/2-FSK/GFSK)
Transmit and receive in half duplex mode
Support data rates up to 500 kBaud
Open hardware
Full speed USB: 12 Mbps (Linux or Android)
Bluetooth Smart 4.0 (Android/iOS)
USB charging & battery powered
4 buttons to assign codes
4 Status LEDs
16 Mbit Flash Memory to save custom RF protocols
Rechargeable battery powered for stand-alone operation
Battery fuel gauge
RX amplifier for improved sensitivity: +13dB from 300MHz-1GHz
TX amplifier for higher output power: +20dB @ 433MHz & +17dB @ 900MHz
SMA connector for external antenna
Antenna port power control for external LNA
22-pin expansion and programming header
Included: Battery and injection molded plastic enclosure
PandwaRF features are not fully complete yet, the developers had finished captured data processing offload, radio scripting (JavaScript & Python), RF packet sniffer, and spectrum analyzer. Other features are still in development process.
Read more: PandwaRF, A Portable Radio Analysis Tool
Project Ratings:
Related posts
Leave a Comment