Variscite has re-launched its VAR-SOM-MX8X System on Module, based on the i.MX8X processor with the latest NXP's qualified silicon for full production. The SoM expands Variscite's VAR-SOM Pin2Pin product family and offers built-in safety features, highly integrated multimedia support, and efficient power/performance architecture.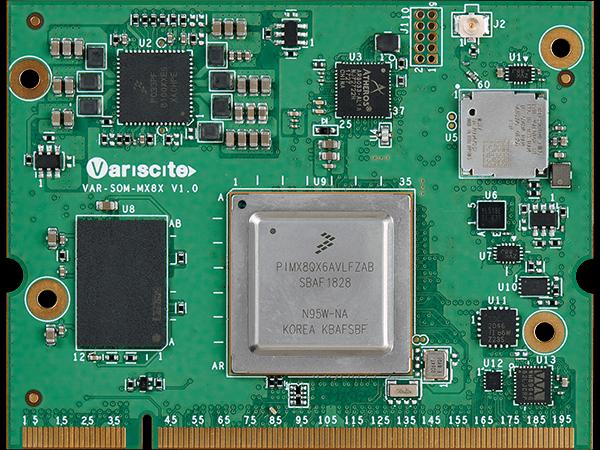 Variscite, a System on Module global market leader and NXP's partner, has re-launched its VAR-SOM-MX8X, an i.MX8X-based System on Module, with the latest i.MX8X silicon version for full production. Variscite's launch takes place along with NXP's formal broad market launch, following NXP's introduction of the new silicon version earlier this quarter as the qualified revision for production. The VAR-SOM-MX8X has already been launched by Variscite last year and was available to Variscite's early-access customers, allowing them to leverage the i.MX8X technology for new developments much earlier than the broad market launch.
The SoM expands the solutions range offered by the VAR-SOM Pin2Pin product family and provides a pin-compatible option to i.MX8, i.MX8M, i.MX8M Mini, i.MX8M Nano, i.MX6, i.MX6UL/ULL/ULZ and the upcoming i.MX8M Plus based modules. This extensive products family allows Variscite's customers ultimate scalability, extended lifetime, and reduced development time, costs, and risk.
Product key features:
NXP iMX8X 1.2GHz Quad-Core Cortex-A35
Real-time 264MHz Cortex-M4F co-processor
Up to 4GB LPDDR4, 64GB eMMC
Integrated security and fail-safe features
2D/3D graphics acceleration
24-bit parallel LCD, LVDS/DSI
4K H.265 Decode, 1080p H.264 Encode/Decode
HQ audio in/out
Camera in: 1x MIPI-CSI2, 1x parallel CSI 8/10-bit
2x GbE, 2x USB 3.0, PCI-E
Analog input, CAN/CAN-FD, UART, SPI, I2C, SD/MMC, touch
Certified Wi-Fi 802.11 ac/a/b/g/n + BT4.2/BLE
Temperature range -40 to 85° C
OS: Linux, Android
Up to 15 years longevity
Read more: OFFICIAL LAUNCH OF VARISCITE'S I.MX8X SYSTEM ON MODULE