Use Amazon Alexa Devices and Sensors to find where objects are in home, or your office.
Story
A ton of inanimate objects are part of our life, and we add them day after day. We spend inordinate amount of time searching for these in times of need.
These inanimate objects can be categorized by frequency of use as follows
1) Uses on a daily basis
Glasses, keys, phones, cables, chargers, laptops, wallets, purses, food items, diapers, medicine vials are some of them.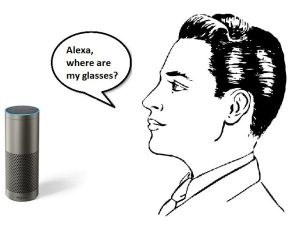 2) Used on a weekly basis
Garden Mats, Board Games, Books for example
3) Used Every Month
Sanitary Napkins for example
4)Used in 6 Months or more
Umbrellas, Jackets, Winter Wear, Printed Photo Albums, Special Weather Boots
5) Emergency Use
Torch, Fire Extinguishers, Swiss Knives
Currently, most people use the following methods to track items and acquire them
1) Create a Hierarchy in storage areas, and then memorize the location of the item.
Pros: Allows the user to formulate standard method of storage, and also organisation of items of use
Cons: Since its is memorized, not everyone can access the information, and requires multiple instructions to be conveyed to a third person who wishes to search the item. ( For example, lending a friend your car, but he needs the car keys kept at home). Also, the hierarchy may not be obvious to someone other than you.
2) Write down the location of each item in a ledger, online or offline.
Pros: Great way to share the location of every item. Anyone can focus on what they wish to find and find it.
Cons: The ledger can get lost or deleted or corrupted.
3) Tell someone to remember it.
So, how can we better track items kept at our homes and offices?
Organize and communicate
Tell Alexa where you are keeping it, and it will update a google sheet with the name of the item, its quantity, its location and when it was kept there.
Possible Utterances:
Alexa, I have kept 10 pairs of socks in Cupboard Drawer
Alexa, I have kept the book "The Design of Everyday Things" on the bookshelf
Alexa, 20 Diapers have been kept in kids drawer today
Alexa, The purple umbrella is kept in the basement.
Find the Item
Ask Alexa where the item is
Possible Utterances and Answers
Alexa, I cant find my socks, where have I kept them?
Answer: Cupboard Drawer
Alexa, Where is my purple umbrella?
Answer: In the basement.
Alexa, Tell me where my books are?
Answer: "The Design of Everyday Things" is on the bookshelf.
Update the status of the item with Alexa, when taken.
Tell Alexa you have taken the item, so it knows its no longer at its place
Alexa, I have taken the Umbrella from the Basement
Alexa, I have taken the book from the Bookshelf
Alexa, I used a pair of socks from the Cupboard drawer.
What if you forget to tell Alexa?
The locations where you wish to keep your items can have smart sensor on cupboard drawers, doors , which can be detected by Alexa, and it can ask if you are taking something out from the cupboard, or putting something in. This way, it reminds you to keep the online ledger updated. Its upto the users choice to add or remove items from the ledger.
Read more: Object Tracker and Updater