Opto Diode Corporation, an ITW company, introduces the SXUV5, an extreme ultraviolet (EUV) photodiode with a circular active area of 2.5 mm diameter. The new device has superior responsivity in the 1 nm to 190 nm wavelength region and is specially designed to be highly stable over long periods of time when exposed to high-intensity EUV energy.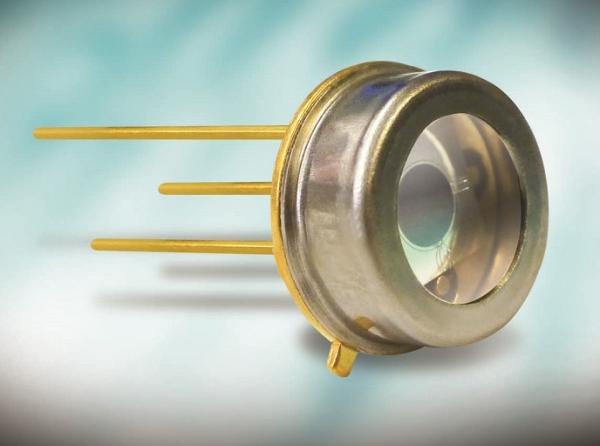 The new photodetector joins Opto Diode's family of SXUV photodiodes with varying active area sizes to meet critical measurements, speed, and power monitoring performance objectives.
The SXUV5 is housed in a windowless, TO-5 package to allow for responsivity at wavelengths shorter than 150 nm. Other features include shunt resistance of 20 MOhms (minimum) and reverse breakdown voltage of 5 Volts (minimum) to 20 Volts (typical). Capacitance is 500 pF (typical) to 1500 pF (maximum), and response time is from 1 nsec (typical) to 2 nsec (maximum).
Storage and operating temperatures range from -10 °C to +40 °C (ambient) and from -20 °C to +80 °C in nitrogen or vacuum environments. The lead soldering temperature is 260 °C.
Read more: NEW SXUV5 EXTREME ULTRAVIOLET PHOTODETECTOR COMES WITH CIRCULAR ACTIVE AREA OF 2.5 MM. DIAMETER