NEXCOM has launched Neu-X300, a high performance fanless computer, powered with 8th Generation Intel® Core™ i-series processors. With its 190mm x 200mm x 54.4mm size, the modern-looking Neu-X300 uses a TPM2.0 IC to enhance cyber security. By specifically choosing an i5 or i7 processor, Neu-X300 is further equipped with vPRO remote management capability. And with its versatile I/O interface design, it's ideally suited to meeting the demands of smart city and miscellaneous electronic applications, such as digital signage, drive-through systems, and retail solutions.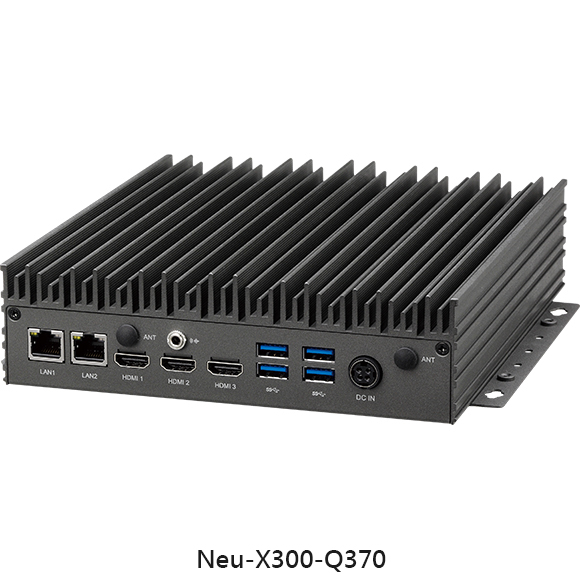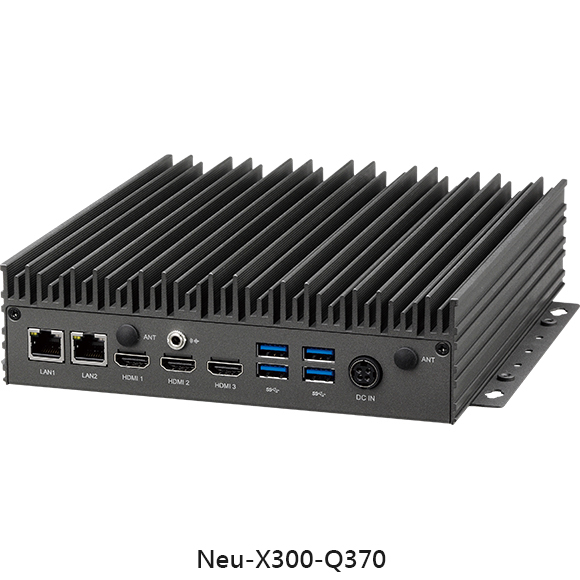 Wide Range of High Performance CPU Options
Powered by 8th Generation Intel® Core™ Coffee Lake i3/i5/i7 socket CPU and Intel® UHD Graphics 630, Neu-X300 has exceptional processing abilities and can stream 3D visual effects. With the socket CPU, you're able to determine and manage the level of CPU performance, based on business requirements, by easily replacing and upgrading from a wide range of Intel® 8th Generation i7/i5/i3 CPUs.
For the customer looking for streaming 2D/3D visual graphics, the Intel Core i3 is an excellent, budget-friendly choice. On the other hand, Core i5/i7 CPUs provides Turbo Boost to speed up tasks, achieving CPU benchmark scores 50% higher than i3s'. With facial identification and object detection systems, the Core i5/i7 CPU also suits the customer who demands more advanced computing performance, for smart cities and AI purposes.
Absolute Security and Easy Manageability
Neu-X300 is designed with both security and manageability in mind. It supports TPM 2.0 security mechanisms, which effectively reduce malicious attacks with greater crypto-agility. With its vPro technology, the Neu-X300 with i5/i7 CPU can additionally implement remote management, making operations more flexible. Used in chain stores' drive-through services, for instance, the Neu-X300 could not only utilize the triple display capabilities for menus but also remote management to allow the command center to perform tasks like information updates and system reboots, rather than on-site. Moreover, NEXCOM offers its own PowerDigiS software to shorten deployment periods.
Read more: NEU-X300 – EDGE COMPUTING SYSTEM POWERED BY 8TH GENERATION INTEL® CORE™ PROCESSOR