The ZL70250 ultra-low-power radio frequency (RF) transceiver provides a wireless link in applications where power consumption is of primary importance. The transceiver's ultra low-power requirements allow battery miniaturization or the use of energy-harvesting methods, enabling devices with an extremely small form factor. The availability of the transceiver in a CSP form factor combined with the extremely low number of external components also contributes in minimizing the application footprint.
The ultra low-power device operates in unlicensed frequency bands between 795 and 965 MHz and offers a data rate of 186 kbit/s to support voice communication. For data communication, the ZL70250 supports extremely low power consumption in packet-based networks.  The device includes the RF transceiver as well as a Media Access Controller (MAC) that performs most link support functions including Received Signal Strength Indication (RSSI), Clear Channel Assessment (CCA), sniff, preamble and sync, packetization, and whitening. The device uses standard interfaces, enabling easy integration with a standard microcontroller or Digital Signal Processor (DSP).
Ultra-Low-Power Transceiver for Short-Range Wireless Applications
Ultra low transmit and receive current of less than 2 mA enables extremely long battery life, very small battery size, or energy harvesting
Low supply voltage of 1.2 V to 1.8 V further reduces power consumption
Operates between 795 and 965 MHz (915-MHz
ISM band in North America; 868-MHz SRD band in Europe)
High data rate (186 kbit/s raw) allows short data bursts and supports bidirectional voice communication
Very few external components (only crystal and bias resistor required) and a CSP package enable end-devices with very small footprint
Standard interfaces: SPIbus master for packet data and two-wire for status and control
Integrated MAC performs all link layer basic functions, enabling simple and low-power controller functions
 Applications
Battery-powered wireless sensor network
Applications relying on energy harvesting
Wireless communication with very long battery life
Voice communication
Remote control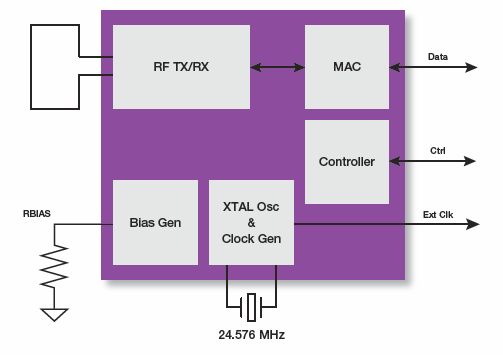 Microsemi has introduced a very low power RF transceiver for short-range wireless applications which draws only 2mA of current when transmiting and receiving data.
The radio operates in unlicensed frequency bands between 795MHz and 965MHz and will supprt a data rate of 186kbit/s.
The ZL70250 radio transceiver is designed to operate from supply voltage (1.1V to 1.9V).
"Lead customers have reported outstanding power saving capabilities when using compact coin cell batteries with 1.4V and 1.5V supply," said Mauricio Peres, director of business development of Microsemi's ultra low power (ULP) group.
The device has a 2mm x 3mm die size and can be integrated into a single chip scale package (CSP) with the exception of a bias resistor and a supply decoupling capacitor.
One application for the radio transceiver is in patient monitors. According to the supplier, wireless technology in the medical industry has limitations to battery life when transporting multiple vital sign streams to a display instrument.
For more read: Microsemi very low power RF chip for patient monitors