Description
The bq2510x series of devices are highly integrated Li-Ion and Li-Pol linear chargers targeted at space-limited portable applications. The high input voltage range with input overvoltage protection supports low-cost unregulated adapters.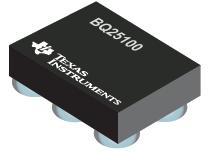 The bq2510x has a single power output that charges the battery. A system load can be placed in parallel with the battery as long as the average system load does not keep the battery from charging fully during the 10 hour safety timer.
The battery is charged in three phases: conditioning, constant current and constant voltage. In all charge phases, an internal control loop monitors the IC junction temperature and reduces the charge current if an internal temperature threshold is exceeded.
The charger power stage and charge current sense functions are fully integrated. The charger function has high accuracy current and voltage regulation loops and charge termination. The pre-charge current and termination current threshold are programmed via an external resistor on the bq2510x. The fast charge current value is also programmable via an external resistor.
Features
Charging

1% Charge Voltage Accuracy
10% Charge Current Accuracy
Supports Applications for Very Low
Charge Currents – 10 mA to 250 mA
Supports minimum 1-mA Charge Termination
Current
Ultra Low Battery Output Leakage Current –
Maximum 75 nA
Adjustable Termination and Precharge
Threshold
High voltage Chemistry Support: 4.35 V
with bq25100H/01H, 4.30 V with bq25100A

For more detail: BQ25100 – 250-mA Single Cell Li-Ion Battery Charger