Features
Step-Up Backup Supply and Step-Down Battery Charger
6.5A Switches for 2.5A Backup from 3.2V Battery
Input Current Limit Prioritizes Load Over Charge Current
Input Disconnect Switch Isolates Input During Backup
Automatic Seamless Switch-Over to Backup Mode
Input Power Loss Indicator
System Power Loss Indicator
Pin Selectable Battery: Li-Ion (3.95V/4.0V/4.05V/4.1V) or LiFePO4 (3.45V/3.5V/3.55V/3.6V)
Optional OVP Circuitry Protects Device to >60V
Constant Frequency Operation
Low Profile (0.75mm) 24-Lead 4mm × 5mm QFN Package
Description
The LTC®4040 is a complete 3.5V to 5.5V supply rail battery backup system. It contains a high current step-up DC/DC regulator to back up the supply from a single-cell Li-Ion or LiFePO4 battery. When external power is available, the step-up regulator operates in reverse as a step-down battery charger.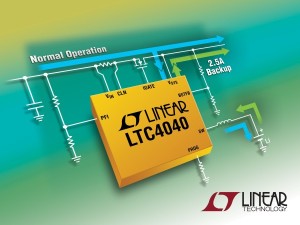 The LTC4040's adjustable input current limit function reduces charge current to protect the main supply from overload while an external disconnect switch isolates the external supply during backup. When the input supply drops below the adjustable PFI threshold, the 2.5A boost regulator delivers power from the battery to the system output.
An optional input overvoltage protection (OVP) circuit protects the LTC4040 from high voltage damage at the VIN pin. One logic input selects either the Li-Ion or the LiFePO4 battery option, and two other logic inputs program the battery charge voltage to one of four levels suitable for backup applications. The LTC4040 is available in a low profile (0.75mm) 24-Lead 4mm × 5mm QFN package.
Applications
Fleet and Asset Tracking
Automotive GPS Data Loggers
Automotive Telematics Systems
Toll Collection Systems
Security Systems
USB Powered Devices
For More Details: LTC4040 – 2.5A Battery Backup Power Manager