Love You Pillow
Story
We all know that being without that special person in your life can be difficult, but what if you could send love and affection remotely over the Internet by just hugging a pillow?
Now, we can't really send hugs… but what we can send is a sweet emoji through a messaging app, triggered by you giving a pillow a hug.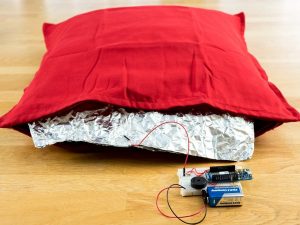 When you hug the I Love You Pillow you will hear the sound of a heartbeat coming from the buzzer inside. Depending on the length of your hug, a different emoji will be sent from a Telegram Bot to whatever chat you choose.
Stay in touch with your loved one with this huggable device!
In a Nutshell
In this experiment, we will use aluminium foil to create a DIY capacitive sensor that will be used to detect hugs.
In order to create our hug-sending-device we will need the following components:
Learning Goals
Introducing Telegram Bots
Managing capacitive sensors
Telegram Bots and group chats #ProTips
WiFi best practices #ProTips
Pro Tips are useful but not strictly necessary steps that add a layer of complexity to the project.
Want to Know More?
This tutorial is part of a series of experiments that familiarise you with the MKR1000 and IoT. All experiments can be built using the components contained in the MKR IoT Bundle.
Introducing Telegram Bots
Telegram is a popular messaging app for both mobile and desktop. Besides letting us chat with our friends it also allows us to create handy and powerful chat-bots!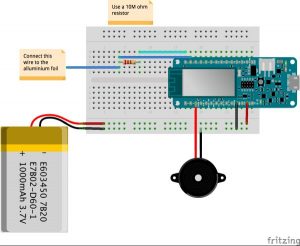 A chat-bot is nothing but a contact you can chat with, but instead a person behind it, there is a machine that replies accordingly to the code you wrote.
The TelegramBot library for Arduino gives us an easy way to implement the logic behind the chat-bot.
Read more: Love You Pillow
Project Ratings:
Related posts